The Kyoto High School and University Faculty Exchange Meeting is a place for both high schools and universities to share ideas and concerns about the issues they face, deepen mutual understanding, and interact with each other to solve problems beyond their positions.
The 16th meeting will be held as follows.
* Until the 14th meeting, it was held under the name "Kyoto High School Teacher Exchange Meeting".
The 16th Kyoto High School and University Teachers' Exchange Meeting
How do students who have experienced exploration grow at university?
How does exploratory learning in high school affect university admission and career choices?
What kind of transformation do students see before and after exploratory learning?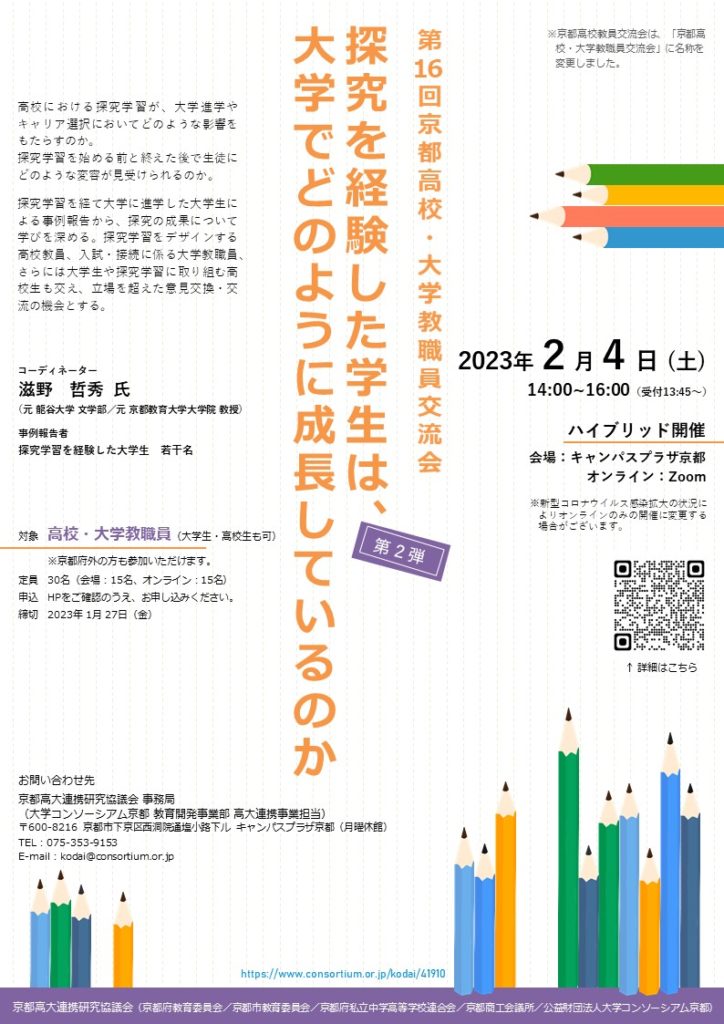 Students who have actually gone on to university through exploratory learning will deepen their learning of the results of their research based on case reports on how exploratory learning has affected their own career paths, including entrance examinations.
In addition, it will be an opportunity to exchange opinions and interact beyond their positions with high school teachers who design exploratory learning, university faculty and staff involved in entrance examinations and connections, and university students and high school students who are engaged in exploratory learning.
We look forward to your active participation.
◆Click here for the 16th Kyoto High School and University Faculty-Staff Exchange Meeting Flyer [Download]
On
Saturday, February 4, 2023 14:00~16:00 (Reception 13:45~)
Place
Hybrid format
(1) Campus Plaza Kyoto
(Shiokoji-sagaru, Nishinotoin-dori, Shimogyo-ku, Kyoto) Right in
front of Kyoto Station Bic Camera (2) Online (Zoom meeting)
Coordinator
Tetsuhide Shino (Former Professor, Faculty of Letters, Ryukoku University / Former Professor, Graduate School of Kyoto University of Education)
Case Reporter
A few university students who have experienced exploration

Configuration

14:00~14:10 Opening and Explanation

14:10~14:50 Case Reports

14:50~15:00 Break

15:00~15:50 Q&A and exchange of opinions

15:50~16:00 Conclusion and Closing

* Depending on the number of applicants, some contents may change.

Attendance fee
Free
Target
High school and university faculty and staff (university students and high school students attending universities in Kyoto Prefecture are also eligible)
* People from outside Kyoto Prefecture can also participate.
* In the case of online participation, those who can participate in an environment where the camera and microphone can be turned on are eligible.
Quorum
30 people: 15 people at the venue, 15 people online (first-come, first-served basis)
Organizer
Kyoto High School Collaborative Research Council (Kyoto Prefectural Board of Education/Kyoto City Board of Education/Kyoto Prefectural Federation of Private Junior and Senior High Schools/Kyoto Chamber of Commerce and Industry/University Consortium Kyoto)
■Precautions (please be sure to check)
* Depending on the situation of the spread of the new coronavirus infection, the event may be held online only. Please note.
< for participants at the venue>
・ We ask for your cooperation in the following measures against new coronavirus infections.
(1) Be sure to wear a mask and disinfect your hands with the disinfectant installed at the venue.
(2) If you have symptoms such as fever (fever, cough, sore throat, shortness of breath, etc.), please refrain from visiting the venue.
(3) Please bring a handkerchief or hand towel, and wipe your hands thoroughly after washing your hands.
(4) At the venue, staff will check body temperature when entering the room and ventilate regularly. Please note.
<For those who participate online>
・We recommend installing the Zoom application.
・ In group work, breakout sessions will be held via Zoom, so please turn on the camera and microphone to participate (please refrain from participating only in auditing).
・ One week before the event, we will inform you how to enter Zoom.
How to apply
Please click the "Apply" button below, fill in the required information, and apply.

* After applying, the secretariat will send you an email confirming the completion of your application.
If you do not receive the email after 2~3 days, please contact us at the following address.
Deadline for application
Friday, January 27, 2023
Contact information
University Consortium Kyoto, Education Development Division, High
School-University Collaboration Project Tel: 075-353-9153 FAX: 075-353-9101
〒600-8216 Campus Plaza Kyoto
, Shimogyo-ku, Kyoto *Reception hours: Tuesday ~ Saturday 9:00~17:00 (excluding year-end and New Year holidays)