The Kyoto High School Teachers' Exchange Meeting is a place where people can share ideas and concerns about school and homeroom management, class improvement, etc., and interact with each other to solve them, regardless of the school or the person who established it.

The 10th meeting will be held as follows.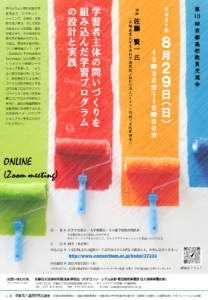 In recent years, terms and concepts such as active learning, proactive, interactive, and deep learning, and inquiry and synthesis have been presented in search of a better way of learning, and specific ways to do so are being explored.
This time, as a basic part of learner-centered question making, participants will provide an opportunity to create questions and have dialogue with each other about "better ways of learning" through question-making method experience workshops such as QFT (Question Formulation Technique).
We would like you to conduct a meta-analysis of the learning effects of each QFT process and facilitation, and obtain a concrete image and action plan for use in organizational development and class practice at your school.
We look forward to your active participation.
◆The 10th Kyoto High School Teachers' Exchange Meeting Flyer【Download】
On
Sunday, August 29, 2021 13:30~16:00(Reception 13:15~)
Place
Online (Zoom Meeting)
Theme
Design and implementation of learning programs that incorporate learner-centered questioning
Lecturer
Kenichi Sato (Professor, Faculty of Life Sciences, Kyoto Sangyo University / Representative Director, NPO Hatenathon Co-Creation Lab)
Configuration

13:30

~

13:45

Check-in


13

:45~14:45 Question-making experience work


14:45

~15:00 Break


15:00~

15:30

Meta-analysis


15:30

~

15:45

Application development
of question-making

15:45

~16:00 Check-out
Attendance fee
Free
Target
High school teachers, university faculty and staff, and other school educators *


People from outside Kyoto Prefecture can also participate.


* Those who can turn on the camera and microphone and participate in the breakout session
Quorum
30 (first come, first served)
Organizer

Kyoto High School Collaborative Research Council (Kyoto Prefectural Board of Education/Kyoto City Board of Education/Kyoto Prefectural Federation of Private Junior and Senior High Schools/Kyoto Chamber of Commerce and Industry/University Consortium Kyoto)
How to apply
Please click the "Application" button below, fill in the necessary information, and apply.
* Applicants will be notified of the access information (URL) of the pre-viewing movie of the outline information of this exchange meeting after the application deadline.
* How to participate in Zoom will be notified to applicants around 10:00 on the day of the event.


* After applying, the secretariat will send you an email confirming the completion of your application.
If you do not receive the email after 2~3 days, please contact us at the following address.
Deadline for application
Friday, August 20, 2021
Contact information
University Consortium Kyoto, Education Development Division, High
School-University Collaboration Project Tel: 075-353-9153 FAX: 075-353-9101
〒600-8216 Campus Plaza Kyoto
, Shimogyo-ku, Kyoto *Reception hours: Tuesday ~ Saturday 9:00~17:00 (excluding year-end and New Year holidays)