The Kyoto High School Teachers' Exchange Meeting is a place where people can share ideas and concerns about school and homeroom management, class improvement, etc., and interact with each other to solve them, regardless of the school or the person who established it.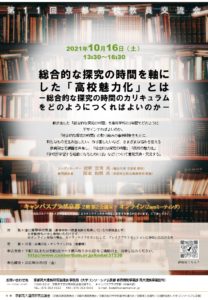 The 11th meeting will be held as follows.
How should we design the "time for comprehensive inquiry" that has begun to be moved during the three years of high school?
Based on case reports of the "Time for Integrated Inquiry" initiatives, this will be an opportunity for faculty members who have various problems, such as wanting to create something new or recreate something, to share issues and exchange opinions and interact on "time for comprehensive inquiry," "making high schools attractive," and "how to become an organization where schools learn."
We look forward to your active participation.
◆The 11th Kyoto High School Teachers' Exchange Meeting Flyer【Download】
On
Saturday, October 16, 2021 13:30~16:30 (Reception 13:15~)
Place
Hybrid format
(1) Campus Plaza Kyoto 2F Hall
(Shiokoji-sagaru, Nishinotoin-dori, Shimogyo-ku, Kyoto) Kyoto Station Bic Camera (2) Online (
Zoom meeting)
Theme
What is
"high school attractiveness" based on the time of comprehensive inquiry? -How should we create a curriculum for time for comprehensive inquiry―
Coordinator
Tetsuhide Shino (Professor, Faculty of Letters, Ryukoku University)
Case Reporter
Kazunori Sakamoto (Teacher, Kyoto Prefectural Momoyama High School)
Configuration
13:30~13:50 Opening and Explanation
13:50~14:40 Case Reports
14:40~14:50 Break
14:50~16:20 Q&A and Opinion Exchange (1) Self-introduction, including reflection of case reports, and sharing
the situation of each school (2) Q&A
session based on case reports (3) Exchange

of opinions based on the situation of each school 16:20~16:30 Closing
Attendance fee
Free
Target
Mainly high school teachers (graduate students who have obtained a high school teaching license are also acceptable)
* People from outside Kyoto Prefecture can also participate.
* In the case of online participation, those who can participate in the breakout session with the camera and microphone turned on
Quorum
30 people: 15 people at the venue, 15 people online (first-come, first-served basis)
Organizer
Kyoto High School Collaborative Research Council (Kyoto Prefectural Board of Education/Kyoto City Board of Education/Kyoto Prefectural Federation of Private Junior and Senior High Schools/Kyoto Chamber of Commerce and Industry/University Consortium Kyoto)

< precautions (please be sure to check)>
* Depending on the spread of the new coronavirus infection, the event may be held online only. Please note.
* When participating at the venue, please note the following points.
(1) Be sure to wear a mask and disinfect your hands with the disinfectant installed at the venue.
(2) If you have symptoms such as fever (fever, cough, sore throat, shortness of breath, etc.), please refrain from visiting the venue.
(3) Please bring a handkerchief or hand towel, and wipe your hands thoroughly after washing your hands.
(4) At the venue, staff will check body temperature when entering the room and ventilate regularly. Please note.
* If you participate online, we will inform you how to participate in Zoom around 10:00 on the day.
How to apply
 Please click the "Application" button below, fill in the necessary information, and apply.


* After applying, the secretariat will send you an email confirming the completion of your application.
If you do not receive the email after 2~3 days, please contact us at the following address.
Deadline for application
Friday, October 8, 2021
Contact information
University Consortium Kyoto, Education Development Division, High
School-University Collaboration Project Tel: 075-353-9153 FAX: 075-353-9101
〒600-8216 Campus Plaza Kyoto
, Shimogyo-ku, Kyoto *Reception hours: Tuesday ~ Saturday 9:00~17:00 (excluding year-end and New Year holidays)