We are looking for student volunteer staff for the 17th High School-University Collaborative Education Forum to be held on Saturday, December 7th.
On the day of the event, we would like to ask for your assistance in the operation of this forum, which is intended for high school and university faculty members.
In addition, as a staff member, you can attend lectures, etc., so we are looking forward to the cooperation of those who wish to become teachers and those who are interested in high school and higher education (university education).
17th High School-University Collaborative Education Forum Student Volunteer Staff
Entrance Examination Reform as a "Connection of Education"
~ How to evaluate the development of qualities and abilities up to high school ~

*For details on the High School-University Collaborative Education Forum[here]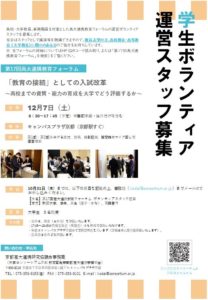 [date and time]
Saturday, December 7, 2019 8:30-17:45 (planned)
*Including advance preparation and cleanup
[place]
Campus Plaza Kyoto
(Shimogyo Ward, Kyoto City)
[content]
Operational assistance such as reception, guidance, photography recording, and turning the microphone when asking questions in the first and second parts
[Capacity]
University students about 5 people
[others]
・Lunch will be provided on the day.
・You can also participate in the information exchange meeting (social gathering) from 17:45 to 18:45 free of charge.
・We will hold a briefing session in advance at Campus Plaza Kyoto (details will be sent after the application is received).
・Please note that we do not cover transportation expenses.
Application method
Please apply by sending the following items to the secretariat by e-mail.
[Subject] Volunteer staff application for the 17th High School-University Collaborative Education Forum
[Text] Affiliated university, grade, name (kanji/kana), phone number

[Application] E-mail: kodai■consortium.or.jp (Please change ■ to @ when sending.)
[Application Deadline] Thursday, October 31, 2019
Contact information
Public Interest Incorporated Foundation University Consortium Kyoto High School-University Collaborative Education Forum
Phone: 075-353-9153 Fax: 075-353-9101 
Campus Plaza Kyoto, Shimogyo-ku, Kyoto 600-8216
*Reception hours: Tuesday to Saturday 9 : 00-17: 00 (excluding year-end and New Year holidays)