Here, we will report on the Nijo Castle x Doshisha University "World Heritage PBL Course – Regional Revitalization through O2O Marketing" (in charge: Professor Minoru Tada) and the activities of the students.
Fieldwork in and around Nijo Castle
In class on July 12th (Sunday), fieldwork was conducted at Nijo Castle and its surrounding areas, and interviews with Nijo Castle staff were conducted.
In Professor Tada's class, there are two groups of "Team M" in charge of marketing strategies such as research, analysis, and consideration of crowdfunding. We are working with 4 teams of "Team Y" aiming to publish on YouTube. This time's work was also divided into these four teams.
On the day of the event, we gathered at 13:00, and first, each team did fieldwork around Nijo Castle for about an hour and a half.

Team A investigated Shinsen-en, which is adjacent to Nijo Castle. At Shinsen-en, we conducted a survey on its history and cultural properties, and confirmed its relationship with Nijo Castle.
Team Y surveyed the area around Nijo Castle, and since there are elementary and junior high schools in the area, it was suggested that it might be effective to approach children and students in the surrounding area to get them interested in Nijo Castle. came out.
Two teams of Team M researched shops around Nijo Castle, and one of them visited Sanjo Shopping Street. In Sanjo Shopping Street, we discovered that there are many shops that place more emphasis on local residents than on tourists.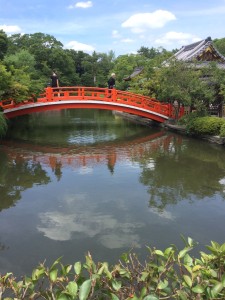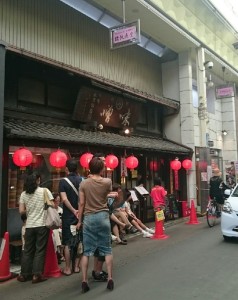 After fieldwork in the surrounding area, the participants were divided into teams and continued fieldwork within Nijo Castle for about 90 minutes. During the fieldwork inside the castle, the guide pamphlets are available in multiple languages, but most of the signboards installed are only in Japanese. There were many discoveries and realizations, such as the discovery that it might be, and the usefulness of devising a catchphrase that fits Nijo Castle, which has historical significance.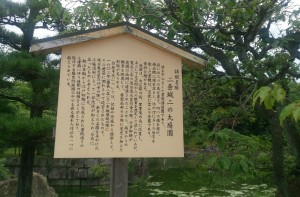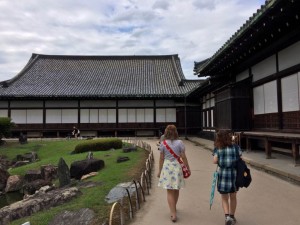 After the fieldwork, we interviewed Mr. Tamaki Goto, Section Chief of the Former Rikyu Nijo Castle Office of the Kyoto City Culture and Citizens Bureau. In the interview, questions were asked about the events that have been held at Nijo Castle so far, as well as the limitations and hardships of being a cultural property. In addition, there was a lively discussion centered on the students, such as exchanging opinions on specific project proposals.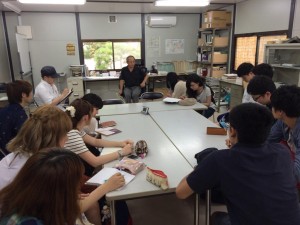 Going forward, we will try to make the proposals concrete through voluntary activities during the summer vacation.
Guest Lecturer: Lecture by Koichi Kawajiri
Koichi Kawajiri (Director of Ginga Writer/Visiting Professor at Tohoku University of Art and Design) was invited as a guest lecturer to give a lecture on advertising and promotion.
Koichi Kawajiri is an editor specializing in advertising creatives. Professor Tada's class focuses on attracting tourists to Nijo Castle and revitalizing events through online promotions, so his lectures were very helpful in planning future promotions. rice field.
Mr. Kawajiri is covering the "Cannes Lions International Festival of Creativity", an advertising, communication and promotional competition held annually in Cannes, France. It was held in late June this year as well, and we talked about recent trends in promotions and tips for planning, including the contents of the interview there. During the lecture, while actually introducing Cannes Lions award-winning works, there were also explanations including specific examples of how the O2O method was used in them.
Mr. Kawajiri said that "simple yet robust ideas and stories that bring about strong empathy" are important in promotions using O2O, and that "O2O has already been incorporated into daily life ("O=O"). We also received important suggestions for advancing the project in the future, such as that there is no need to think so difficultly.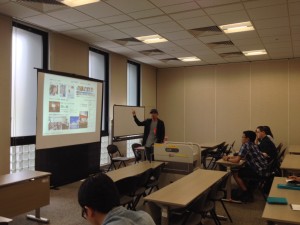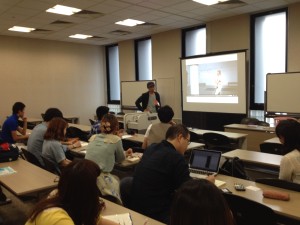 After Mr. Kawajiri's lecture, the participants were divided into groups to share and deepen what they felt and learned in the lecture, and a question-and-answer session was held in each group. During the question and answer session, opinions were exchanged on the pros and cons of using yuru-chara.

In the next class on July 12th (Sunday), we will visit Nijo Castle and try fieldwork and interviews.
Learning about Nijo Castle
On June 11th (Thursday), a class was held by Prof. Tada of Doshisha University, whose activities are based in Nijo Castle. The first class of Mr. Tada's class was held on May 30th (Sat) with the opening ceremony and general orientation jointly with other classes, so this was the first time for him to hold a class on his own.
The theme of Professor Tada's class is to create a 'gimmick' for regional revitalization from O2O marketing techniques. O2O is an abbreviation for Online to Offline, which utilizes online (web) promotions such as social media to attract consumers to actual stores (offline) that sell and provide related products and services. It refers to a marketing method that induces.
Nijo Castle is in the midst of a 20-year full-scale restoration project since it was built by Ieyasu Tokugawa in 1603, and aims to cover part of the repair costs with donations and earnings from various event projects. Using the O2O method, one of the challenges of this class is how to raise interest in Nijo Castle, increase the number of visitors and participants in various events, and make proposals that can generate revenue for repair costs. It's one.
In this class, in order to deepen the understanding of Nijo Castle, a lecture was given by Mr. Umebayashi, the former Manager of the Imperial Villa Nijo Castle office. Mr. Umebayashi introduced the history of Nijo Castle, the cultural assets in the castle grounds, and the evaluation of Nijo Castle both in Japan and overseas, and then explained the "World Heritage Nijo Castle MICE Plan" that Nijo Castle is working on. MICE is a coined word consisting of the initials of "Meeting", "Incentive", "Convention" and "Exhibition/Event". By providing Nijo Castle, a World Heritage Site with high historical value, as a MICE venue, we aim to widely disseminate the appeal of Nijo Castle and Kyoto, as well as the value of their cultural properties, while at the same time earning profits. He talked about the events that have been held so far and the difficulties that arise because it is a cultural property.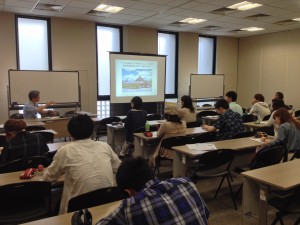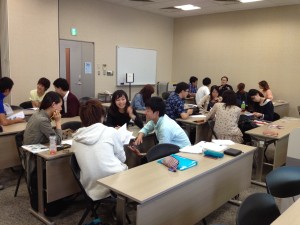 After the lecture, the students were divided into four groups and conducted group work. In addition to deepening the content of the lecture in groups, questions were asked to Mr. Umebayashi and opinions were exchanged on the possibility of MICE.