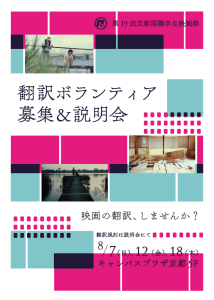 This year marks the 19th edition of the Kyoto International Student Film Festival.
The translated content will be displayed as subtitles at the 19th Kyoto International Student Film Festival (Kyoto Cinema), which will be held from November 26th (Sat) to December 2nd (Fri), 2016.
In the past, this film festival has attracted a lot of attention, such as director Tetsuya Mariko of "Destruction Babies" and director Destin Cretton of "Short Term". Would you like to witness the moment when a future master is born?
<What is the Kyoto International Student Film Festival?>>
This film festival is Japan's largest international student film festival, planned and operated mainly by university students in the Kansai region, mainly in Kyoto. We aim to discover future filmmakers by creating opportunities for students to collect independent films produced by students from all over the world, judge them, and screen them.
Click here
for details
Application Requirements
<Target>
●University students, graduate students, vocational school students, and working adults who like movies and are interested in translation work ●Persons who
can work from home or contact the film festival executive committee from September to October
●Briefing session ( (See below). Those who can participate once (Those who have experience translating subtitles are not limited to this.)
Those who are proficient in foreign languages ​​(TOEIC score of 750 or higher or Eiken Pre-1 or higher is desirable.)
☆For those who cooperate, As a reward, we will give you an invitation ticket during the film festival.
*Depending on the number of people, we may not be able to ask all applicants to translate the subtitles.
 In addition, we may ask for translations other than subtitles.

<Briefing session>
schedule
Sunday, August 7, Friday, August 12, Thursday, August 18, 2016
time
Both dates are from 14:00 to 16:00
place
Campus Plaza Kyoto, 5th floor, 1st joint research room
content
Subtitle translation rules (character limits, etc.)

How to apply

Please fill in your name, school name (unnecessary for working adults), phone number, schedule of briefing sessions you can participate in and send it to the following address with the subject line as "Translation Volunteer Application" .
The person in charge will contact you later.
<Send to> info kisfvf.com

<Inquiries regarding this matter>

19th Kyoto International Student Film Festival Executive Committee Translation Volunteer Receptionist,Campus Plaza Kyoto, Shimogyo-ku, Kyoto 600-8216
TEL: 075-353-9430 (closed on Mondays) *Absent Please contact us by email.
Address: info■kisfvf.com (please change ■ to @)
Kyoto International Student Film Festival Executive Committee Official Website