In order to create policies for the creation of the future of Kyoto by utilizing the accumulation of "knowledge" of "Kyoto City of Universities", the "Future Kyoto Creative Research Project Vol. 3" has been completed, in which university researchers and departments in charge of Kyoto City conduct surveys and research!

Three of the six survey and research themes selected this year are selected, and the outline of the research, the profile of the researcher, the progress of the research, etc. are introduced by the researchers who are actually involved in the surveys and research.
Please read on!


↓ Click to read the research news vol.3. (PDF)! ↓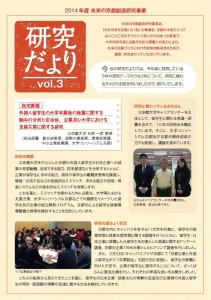 Surveys and research themes covered in vol.3
Analysis of Employment Trends of International Students After University Graduation and Research on Support Measures at Local Governments, Companies, and Universities
 ~Ritsumeikan University Professor Kazuhiko Ishihara
Influence of residential garden environment and its decline on the biota of the block in Kyoto City
 ~Kyoto University, Professor Shozo Shibata, Master's Program, Akiko Niino
Research on next-generation citizen collaboration policy using "Future Center" in Kyoto City
~Kyoto Prefectural University Lecturer Hideki SugiokaIn


the next research newsletter vol.4, we will introduce the stories of three other researchers. 
Please look forward to!


---
Kyoto Creative Research Project 2014 Survey and Research Themes 

---

Contact us
Consortium of Universities Kyoto Think Tank Project
TEL 075-708-5803 FAX 075-353-9101
〒600-8216 Campus Plaza Kyoto, Shimogyo-ku, Kyoto
, Shiokoji-dori ※Reception hours: Tuesday ~ Saturday 9:00~17:00 (excluding year-end and New Year holidays)