In order to create policies for the creation of the future of Kyoto by utilizing the accumulation of "knowledge" of "Kyoto City of Universities", the "Research News Vol.5" of the "Kyoto Creative Research Project for the Future" has been completed, in which university researchers and departments in charge of Kyoto City collaborate to conduct surveys and research!

This page introduces the results report meeting and exchange meeting of this project held on Tuesday, March 17. Please read on!


↓ Click to read the research news vol.5. (PDF)! ↓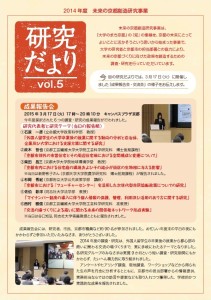 Thank you for your interest in this project in fiscal 2014.
In fiscal 2015, we will continue to implement the Kyoto Creative Research Project for the Future.
We are planning to call for researchers to work on designated and free projects around the end of April!
As soon as the details are decided, they will be announced on the website and Facebook page,
so please pay attention to them. Thank you for your continued support.
---
Kyoto Creative Research Project 2014 Survey and Research Themes 

---
Contact us
Consortium of Universities Kyoto Think Tank Project
TEL 075-708-5803 FAX 075-353-9101
〒600-8216 Campus Plaza Kyoto, Shimogyo-ku, Kyoto
, Shiokoji-dori ※Reception hours: Tuesday ~ Saturday 9:00~17:00 (excluding year-end and New Year holidays)