20th
National University Consortium Research Exchange
Forum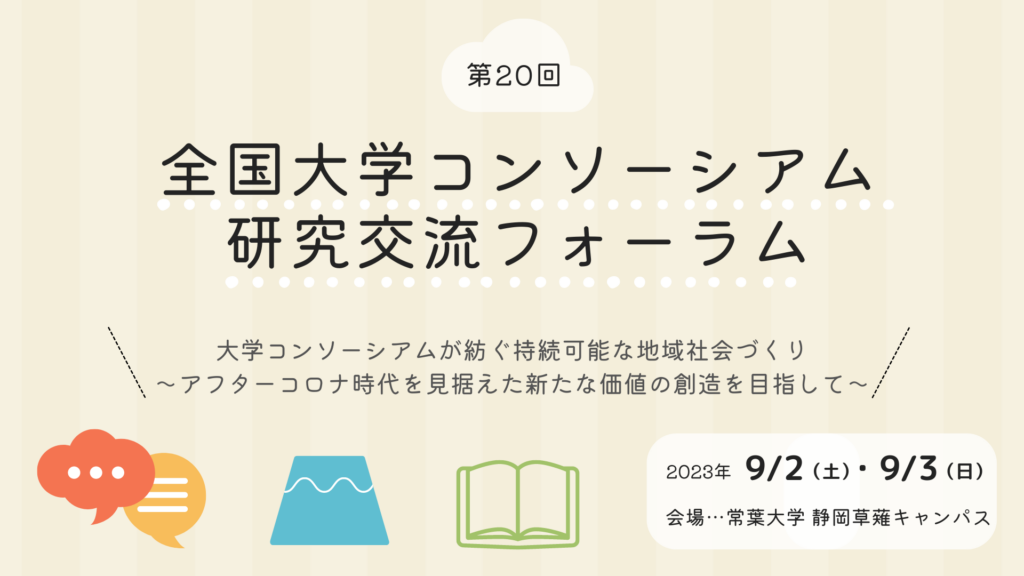 The National University Consortium Council and the Fujinokuni Regional/University Consortium
will jointly hold the 20th National University Consortium Research Exchange Forum as follows.
We are now accepting applications!
We look forward to your participation.
Main subject
"Creating a sustainable community spun by a university consortium
-Aiming to create new value for the post-corona era"
date and time
September 2, 2023 (Sat) 13: 30-19:30 / September 3 (Sun) 10: 00-12 :00
Venue
Tokoha University Shizuoka Kusanagi Campus (6-1 Yayoi-cho, Suruga-ku, Shizuoka City)
Contents [ Day

1

] Saturday, September 2, 2023

13

:

30-19

:30
◇ Keynote Speech
"The Land of Japan and the Land of Shizuoka -Large-Scale Natural Disasters and Crisis Management of Higher Education Institutions-"
Mr. Kazuo Oike (President, University of Shizuoka)
◇ symposium
"Expectations for the University Consortium to Build a Sustainable Community"
 [Coordinator]
  Mr. Kazuyuki Hizume (President of Shizuoka University)
 [Symposist]   
  Mr. Tsutomu Deno (Vice Governor of Shizuoka Prefecture)
  Mr. Kimio Sakai (Representative Director and Chairman of Shizuoka Railway Co., Ltd.)
  Mr. Shigehiro Ikegami (Superintendent of Education, Shizuoka Prefectural Board of Education)
◇ Educational Administration Report: Mr. Kenichi Yamada (Deputy Director, University Education and Entrance Examination Division, Higher Education Bureau, Ministry of Education, Culture, Sports, Science and Technology)
◇ Poster session: Introducing the efforts of consortium organizations nationwide
◇ Information exchange meeting
Contents [
Day 2] Sunday, September 3,

2023

10:00

to

12:00
◇Subcommittee (4 subcommittees in total)
・1st subcommittee (University Consortium Kyoto)
 "Support for students with disabilities and inter-university collaboration"
・2nd subcommittee (Academic, cultural and industrial network Tama)
What kind of roles can be expected from government-academia collaboration?
・3rd subcommittee (Fujinokuni community/university consortium)
"Thinking about how to deal with disasters through collaboration between universities and various entities"
・4th subcommittee (university consortium Osaka)
 "With/Student Volunteer Activities in the After-Corona Era"
participation fee
Participation fee 4,000 yen (free for students)
Information exchange membership fee (general) 4,000 yen (students) 2,000 yen
*Those who wish to receive a report book will need to pay an additional 1,000 yen.
Application period
June 21, 2023 (water) 10:00 ~ July 28 (gold)
Details/Application
For details on each program and how to apply, please check the special website here.
 Special site for the 20th National University Consortium Research Exchange Forum
Click here for leaflet
 20th National University Consortium Research Exchange Forum Leaflet
Inquiries
National University Consortium Council Secretariat
Phone : 075-353-9100 FAX: 075-353-9101
*Business hours: Tuesday-Saturday 9:00-17:00 (excluding year-end and New Year holidays)