English skill improvement training "Active Learning in the Classroom" implementation report
On July 26th, we welcomed Ms. Mikako Nishikawa, an adviser to the Eiken Association of Japan, as a lecturer, and held an English skill improvement training course, "Active Learning in the Classroom," for faculty members of member universities.
This training was planned as part of the English Skills Training for University Teachers, which has been implemented by the University Consortium Kyoto since 2013. We got 11 participants.


In the training, following the icebreaker, active learning (active learning) is not a lecture style in which the instructor unilaterally conveys knowledge, but rather research assignments and PBL (project/problem based learning). In addition to deepening their understanding of active learning, such as learning, discussions, and presentations), they also learned phrases that are often used in English classes. There are various expressions such as reference words used in class and useful phrases when introducing active learning. There was a proposal that I would like to have.
Next, while experiencing group discussions and workshop methods, participants shared examples of strategies for designing effective discussions, effective feedback and evaluation methods in classes using active learning. As a result, we gave a group presentation.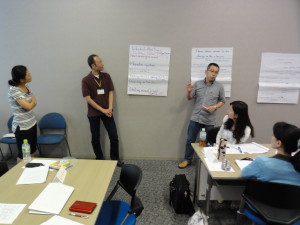 In this training, it was difficult to come up with common and effective strategies because the situation of day-to-day class management differs depending on the field of specialization and the scale of the class. He also spoke about issues such as how to increase the motivation of Japanese students. However, despite the long hours of the workshop, all the participants actively participated in the training, such as exchanging information on ingenuity in classes across disciplines and discussing concrete ways to improve classes through discussions. Worked on.
This was the first time for the Consortium of Universities Kyoto to implement an English skill improvement training program for teachers only. I would like to continue


---
Public Interest Incorporated Foundation Consortium of Universities Kyoto International Collaboration
TEL +81-75-353-9164 FAX +81-75-353-9101
Campus Plaza Kyoto, Shimogyo-ku, Kyoto 600-8216
※Business hours: Tuesday-Saturday 9:00-17 :00 (excluding year-end and New Year holidays)