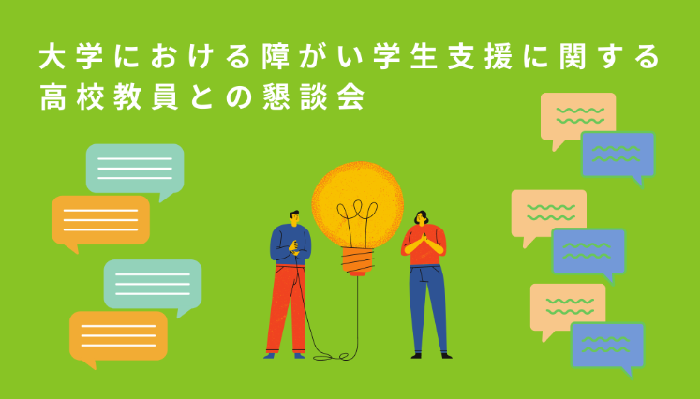 Outline of the event
1. Purpose
In order to consider support for high school and university students with disabilities (consideration at the time of entrance examinations, study support, support system, etc.), this time, we will provide topics from the perspective of special needs education about specific cases seen in high schools and universities, and then hold a roundtable discussion by group. We aim to make the meeting meaningful not only for high school teachers but also for university faculty and staff, as it is an opportunity to learn about problems in support and career guidance at high schools, etc., and requests for universities, etc., and for both sides.
2. Date & Time: Friday, December 4, 2020, 14:00~17:00
3. Venue: Campus Plaza Kyoto and online high-flex roundtable discussion
*We apologize for the inconvenience, but the application status has closed for participation at Campus Plaza Kyoto. (Those who wish to participate online can apply
) Campus Plaza Kyoto (939 Higashishiokojicho, Shiokoji-cho, Nishinotoin-dori, Shimogyo-ku, Kyoto)
《Access》5-minute walk from Kyoto Station on the Kyoto Municipal Subway Karasuma Line, JR Lines, and Kintetsu Kyoto Line
4. Eligibility
(1) Teachers
working at high schools, etc. in Kyoto Prefecture (Regardless of school type of full-time, part-time, or special needs school) (2)
Faculty and staff of member universities of the Consortium of Universities Kyoto
5. Capacity
(1) 40 people (first-come, first-served basis) (2) About 10~15 people (5 universities or more)
6. Participation fee
Free
7. How to apply
Please see here for the outline of the event.
* Details will be sent by e-mail about one week before the event, so please check it.
* If you cannot send the participation application form, we will respond by e-mail separately, so please contact us by e-mail.
* In order to refer to the topics covered in the roundtable discussions by group, please fill in the participation application form about the content you want to cover from each standpoint.
8. Application Period
Friday, October 23, 2020 ~ Friday, November 20, 2020
9. Contents and Schedule
Time

Content

13:30
Registration starts
14:00
Opening Remarks
14:10
Topic (1) "Support for Students with Disabilities and Support for Students with Physical Disabilities at Universities"

≪Lecturer≫ Yuji Miyatani (Coordinator, Support Room for Students with Disabilities, Kyoto University) ≪Contents≫

It is very effective to understand the differences in culture (the way of support)

between high school and university in the connection between high school and university. We will explain the outline of the support provided at the university and introduce examples of support for students with physical disabilities.

14:40
Topic provided (2) "Support for Students with Mental and Developmental Disabilities ~From Examples of Support Based on Understanding of Characteristics~"

≪Lecturer≫ Eiichiro
Iwai (Ritsumeikan University Support Office for Students with Disabilities Support Coordinator, School Psychologist, Certified Public Psychologist)

≪Contents≫

In student support, support is rarely completed by a single department.
We value "face-to-face collaboration" with various departments, and introduce examples of support that focus on understanding characteristics again rather than diagnosis names.

15:10
Rest and move
15:20
Group discussions (3 times × 30 minutes)
You will be divided into small groups and have a discussion. Teachers of high schools, etc., should prepare questions about issues related to support for students with disabilities in various aspects such as learning, life, and career paths, as well as questions about the university. University faculty and staff will be asked to introduce the status of their efforts to support students with disabilities at each university, answer questions from high school teachers, etc., and exchange information and exchange.
16:50
Conclusion and Closing Remarks
17:00
closing
10. Others
Organizer: Consortium of Universities Kyoto