In order to create policies for the creation of the future of Kyoto by utilizing the accumulation of "knowledge" of "Kyoto City of Universities", the "Future Kyoto Creative Research Project Vol. 4" has been completed, in which university researchers and departments in charge of Kyoto City collaborate to conduct surveys and research!

Following vol.3, three of the six survey and research themes selected this year are discussed, and the outline of the research, the profiles of researchers, the progress of the research, etc. are introduced by the researchers who are actually involved in the surveys and research.
In addition, information on the results report meeting and exchange meeting of this project to be held on Tuesday, March 17 is also posted.
Please read on!


↓ Click to read the research news vol.4. (PDF)! ↓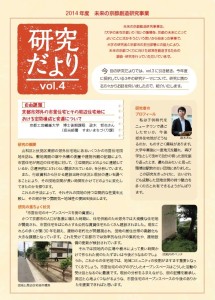 Surveys and research themes covered in vol.4
Spatial Composition and Transition in Municipal Housing in the Suburbs of Kyoto City and Surrounding Residential Areas
 ~Kyoto Institute of Technology Doctoral Student Tetsuya Masaki
Empirical research on the development of merchants and citizens and the formation of networks by creating opportunities for exchange
 ~Kyoto Institute of Technology, Associate Professor Masanobu Nishimura
Research on the protection, management, use, and utilization of personal information associated with the introduction of the My Number system
 ~Doshisha University, Professor Akihiro Saeki
---
Kyoto Creative Research Project 2014 Survey and Research Themes 

---
Kyoto Creative Research Project for the Future Achievement Report Meeting and Exchange Meeting
 A report meeting and exchange meeting on the results of the six surveys and research selected this year will be held at Campus Plaza Kyoto from 5 p.m. on Tuesday, March 17!
Please come and visit us. Click here for details.

Contact us
Consortium of Universities Kyoto Think Tank Project
TEL 075-708-5803 FAX 075-353-9101
〒600-8216 Campus Plaza Kyoto, Shimogyo-ku, Kyoto
, Shiokoji-dori ※Reception hours: Tuesday ~ Saturday 9:00~17:00 (excluding year-end and New Year holidays)