The appeal of going on to study in Kyoto
The whole city of Kyoto is one campus
What do you imagine when you hear the word "Kyoto"? You can imagine various things such as "history", "tradition", "culture", "art", "manufacturing", and "sightseeing". Kyoto is also a "city of universities and students" with about 50 universities and junior colleges and about 170,000 students studying, and the entire city of Kyoto is like one campus. You may be worried about taking the entrance exam, but let's take a peek at campus life after entering university and the charm of Kyoto!
Learning style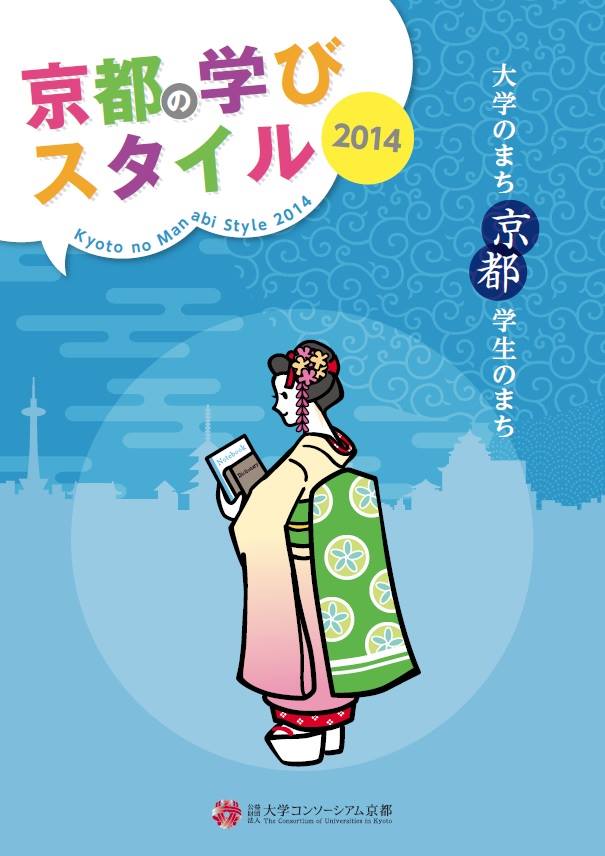 We have compiled a book about campus life after entering university, obtaining qualifications to get a job that interests you, and the charm of the city of Kyoto.
Kyoto's Learning Style 2014【Click here for details】
1200 years of history
In December 2013, "Japanese food; Japan Traditional Food Culture of People" has been registered as a UNESCO Intangible Cultural Heritage. Let's enjoy the charm of Kyoto not only with tangible cultural heritage but also with "Kyoto cuisine", which can be said to be a representative of Japanese cuisine!


Traditional Culture and Performing Arts: Mastering the "Way"!?
Kyoto is also a place related to traditional culture that represents Japan, such as flower arrangement, tea ceremony, and kabuki, among the traditional cultures rooted in the Japan. Kyoto is a place where you can learn traditional culture such as the tea ceremony in earnest not only in university classes but also in club and circle activities! One of the attractions is to see the traditional "road" in Kyoto.
Food culture: Enjoying Kyoto vegetables
Many of the "Kyoto vegetables" used in traditional Kyoto dishes are highly nutritious and have distinctive colors and shapes, such as Shogoin turnips, Horikawa burdock root, and Kamo eggplant. Even at universities in Kyoto, there are classes on the theme of "food education", and there will be opportunities to experience Kyoto vegetables. Kyoto vegetables, which have unique and diverse varieties, may become the "seed" of a conversation at a meal between friends!
Looking into the heart…
When you were a child, the festival that made your heart pounding and excited …, I think you have felt it at least once! In addition to the Gion Festival, which is one of the three major festivals in the Japan, Kyoto is also characterized by its many large-scale festivals such as the Aoi Festival and the Jidai Matsuri. In addition to festivals, one of Kyoto's characteristic events is the "Kyoto Five Mountains Fire". For people born and raised in Kyoto, this is an important event to send the souls of their ancestors, and it is a tradition during the Obon season. Why don't you take a fresh look at the important "heart" that you have almost forgotten in Kyoto!?
A student-friendly city
I'm worried about living alone for the first time … But you're not the only student living alone in Kyoto! There are reassuring friends, backups, and environments in Kyoto, so be sure to check them out!
There are many friends from outside Kyoto!
Kyoto welcomes students from prefectures from outside Kyoto every year. It is characterized by a large number of students from prefectures with ordinance-designated cities such as Okayama, Hiroshima, and Fukuoka, as well as from Hokuriku, such as Kanazawa, Toyama, and Fukui, and Hokkaido. Many students live alone, so living alone for the first time should be reassuring. Furthermore, in order to improve crime prevention and traffic safety environments around the university and on school routes, the Kyoto Prefectural Police, the university, Kyoto Prefecture, and Kyoto City will work together to strengthen efforts to promote the development of security cameras, street lights, bicycle parking lots, etc., and strive to create a safe city.


The number of university students ranks first in Japan!
Kyoto is a "city of universities and students" in both name and reality. There are many initiatives between universities and exchanges that transcend university boundaries, and many fun encounters await!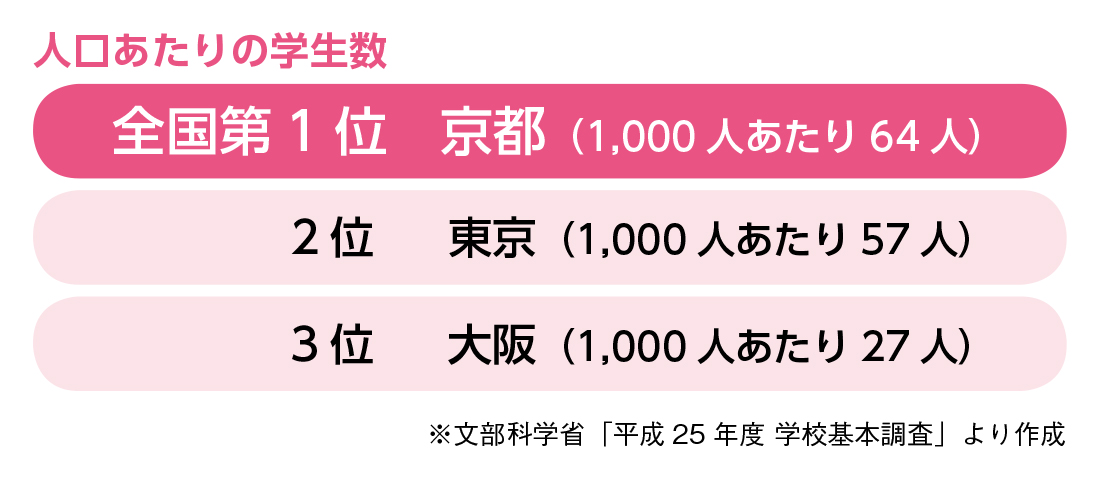 One month's living expenses are cheaper than in Kanto.
If you compare the cost of living in the Tokyo metropolitan area and Kyoto, you can see that Kyoto is cheaper. Dormitory students are cheaper than in the Tokyo metropolitan area, Tokai, and Hokuriku area! Considering the burden of sending money and the effort to compensate for living expenses such as part-time work, university life in Kyoto is recommended!


You can take classes at other universities
The University Consortium Kyoto has a credit exchange system that allows students to freely choose and take attractive courses offered by about 50 universities and junior colleges. The participating universities under this system have one of the largest number of courses in Japan!


Credit transfer system: An advantageous system that allows students to take classes at other universities and earn credits
Depending on your interests, you can choose from themes spanning a variety of academic disciplines, including culture, art, politics, economics, and natural sciences. You can enjoy the atmosphere of other universities' campuses and interact with students from other universities!
You can experience working life with students from other universities
While interacting with students from other universities, why don't you acquire the necessary skills as a member of society, such as business manners, and use it as a trigger to take the first step toward becoming a member of society?


Internship Program: You can become a member of society one step ahead
An internship is an internship in which students experience working at a company or government agency for a certain period of time. To date, more than 7,700 students and more than 4,400 companies and government agencies have participated in the programs of the University Consortium Kyoto, and a support system has been established based on more than 15 years of abundant experience and achievements. There are many students who participate from the first year.
Student exchange beyond university boundaries


The club activities of my dreams are not limited to my own university. There are many opportunities to enjoy and learn while interacting with students from other universities! Here are just a few.
Kyoto Student Festival: A festival in which more than 10,000 university and junior college students have participated so far
In 2013, 528 student staff members from 40 universities, 4 graduate schools, and 1 vocational school participated, and the annual number of visitors exceeded 150,000, making it the first city-wide student-produced festival in Japan. In addition to making friends beyond the boundaries of universities and grades, it has become a "place of learning and growth" by working together with the government, companies, and universities on planning, obtaining sponsorship funds, and publicity.
Kyoto International Student Film Festival: A place to broaden international perspectives through film
Japan's largest international student film festival is run mainly by students. Through films, it has become a place for exchange that transcends genres, nationalities, and ages, and last year 357 films (including Japan) from 21 countries were collected. In addition to using foreign languages in exchanges with overseas student writers, students will be able to broaden their values and perspectives through cross-cultural exchange. By using foreign languages in a practical way, you may be able to step up in the future!
Exchange with international students: Active international exchange among students studying in Kyoto
There are about 7,000 international students from all over the world enrolled in the Kyoto area (as of 2013), and many international exchange events are held. Isn't it one of the attractions of having a place where you can improve your language skills and understand different cultures by interacting with students from all over the world?
Member school entrance examination information site