The "Kyoto High School/University Faculty and Staff Exchange Meeting" is a place to share issues faced by both high schools and universities, deepen mutual understanding, transcend standpoints, and exchange for solutions.
This time, we will hold the 17th as follows.
*Until the 14th, it was held under the name of "Kyoto High School Teachers Exchange Meeting".
The 17th Kyoto High School/University Teacher Exchange Meeting
Students and faculty members who have grown significantly through inquiry curriculum reform. What does the deepening of inquiry bring?
What kind of impact will inquiry-based learning, including the 'general inquiry time', have on learning at high school and university?
How should we design inquiry-based learning from the perspective of connecting high school and university? Also, how should we think about the relationship between the inquiry in the subject and the time for comprehensive inquiry?
Then, not only high school teachers but also university faculty and staff members will interact and exchange opinions on what the role of high school teachers should be.

At the 17th meeting, as the director in charge of "Comprehensive Inquiry Time (Isanago Inquiry)" at Kyoto Prefectural Mineyama High School, he promoted curriculum design, cooperation with the community, student activities, and reform of the faculty and staff organization. Through the case reports of teachers who have been in the field, high school teachers and university teachers have learned from various perspectives such as the cycle of inquiry, task setting, presentation methods, evaluation, circulation with subject learning, career education, student transformation, and school organizational development. This will be an opportunity to interact, exchange opinions and share information about high school-university collaboration.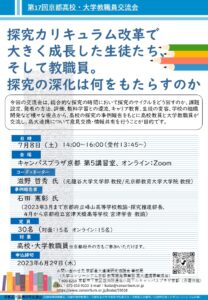 We look forward to your active participation.
◆The 17th Kyoto High School/University Teacher Exchange Meeting Flyer [ Download ]
date and time
Saturday, July 8, 2023 14:00-16:00 (reception 13:45-)
place
Hybrid format (
1) Lecture room No. 5, Campus Plaza Kyoto
 (Nishinotoin Dori Shiokoji, Shimogyo-ku, Kyoto) (
2) Online (Zoom meeting)
coordinator
Mr. Tetsuhide Shigeno (Former Professor, Faculty of Letters, Ryukoku University / Former Professor, Graduate School, Kyoto University of Education)
case reporter
Mr. Noriaki Ishida
(Kyoto Prefectural Mineyama High School Teacher/Director of Inquiry Promotion until March 2023,
 Kyoto Prefectural Miyazu Amanohashi High School Miyazu Gakusha Teacher from April)

constitute

14:00~14:10 Opening of the meeting and explanation of purpose

14:10~14:50 Case report

14:50-15:00 break

15:00-15:50 Q&A and exchange of opinions

15:50-16:00 Wrap-up/Closing

*Some contents may change depending on the number of applicants.

participation fee
free
subject
High school/university faculty and staff
*People outside of Kyoto Prefecture can also participate.
*For online participation, those who can participate in an environment where the camera and microphone can be turned on are eligible.
Capacity
30 people: 15 people at the venue, 15 people online (first-come-first-served basis)
Organizer
Kyoto High School-University Collaborative Research Council (Kyoto Prefectural Board of Education/Kyoto City Board of Education/Kyoto Federation of Private Junior and Senior High Schools/Kyoto Chamber of Commerce and Industry/University Consortium Kyoto)
■ Notes (Please be sure to check)
<Participants at the venue>
・ Regarding measures against the new coronavirus infection, please make your own judgment and respond accordingly.
<For online participants>
・We recommend installing the Zoom application.
・One week before the event, we will inform you how to enter the Zoom room.
Application method
Please click the "Apply" button below, fill in the necessary information, and apply.

*After applying, the secretariat will send you an e-mail confirming that the application has been completed.
 If you do not receive an email within 2-3 days, please contact us using the contact information below.
Application deadline
June 29, 2023 (Wood)
Contact information
Public Interest Incorporated Foundation Consortium of Universities Kyoto, Educational Development Division, High School-University Collaboration Project Telephone
: 075-353-9153 Fax: 075-353-9101 
Campus Plaza Kyoto, Shimogyo-ku, Kyoto 600-8216
*Reception hours: Tuesday ~Saturday 9:00~17:00 (Excluding year-end and New Year holidays)