Overview of the business
 The Kyoto International Student Film Festival is the largest international student film festival in the Japan, which is planned and operated mainly by university students from the Kansai region, mainly in Kyoto, and this year marks the 21st edition of the film festival. The purpose of this program is to gather independent films produced by students from all over the world, review them by the executive committee, create opportunities for students to screen them, and discover human resources and talents who will lead future filmmakers.
Historically Japan Kyoto is a "city of movies" that still inherits the cultural heritage of the early days of cinema, and it is also a "city of universities and students" where students account for 10% of the population of Kyoto City. This festival aims to revitalize Kyoto by discovering and introducing talents who can add new fields to cinema from among the many possibilities of the world, thereby creating a place for international exchange and mutual understanding.
Outline of the event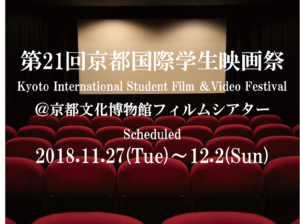 Concept "Fuekiryuukou Shikai Brothers"
As the largest international student film festival in the Japan with a 20-year tradition, it will create a place for exchange between domestic and foreign filmmakers, leading to the discovery of talent that will fly into the future.
In addition, we will focus on training the executive committee members so that we can convey the further appeal of many works full of possibilities, aiming for the 21st festival suitable for a new beginning.
21st Kyoto International Student Film Festival
◆◆ Click here for the official website ◆◆◆
Schedule:

Tuesday, November 27, 2018 ~ Sunday, December 2, 2018 *Award ceremony on the last day

Venue:

Film Theater, The Museum of Kyoto (Sanjo Takakura, Nakagyo-ku, Kyoto)

Fee:
| | | |
| --- | --- | --- |
| | 1DAY PASS | ALL DAY Pass |
| General | ¥1,000 | 2,000 yen |
| Students (high school students and above) | 800 yen | 1,800 yen |
| Junior high school students and younger | Free | Free |
Organizer:

University Consortium Kyoto

Co-organizers:

The Museum of Kyoto

Planning and management:

21st Kyoto International Student Film Festival Executive Committee

Operational support:

Kyoto International Student Film Festival Planning Committee

Supported by:

Arts and Culture Promotion Fund / Nissha Printing Culture Promotion Foundation

Supported by:

Kyoto Prefecture, Kyoto City, Kyoto Prefectural Board of Education, Kyoto City Board of Education, The Japan Foundation, NPO Image Industry Promotion Organization, Cineaste Organization Osaka, Cooperatives Japan Directors Guild, UNIJAPAN, Asahi Shimbun Kyoto General Bureau
Kyoto Shimbun, NHK Kyoto Broadcasting Station, KBS Kyoto,

α-STATION FM Kyoto

Sponsors:

Genki na Office Co., Ltd., Directors Univ Co., Ltd., Kyoetsu Co., Ltd., J:COM Kyoto Miyabijon, Ritsumeikan University Graduate School of Film and New Media, Murata Machine Co., Ltd., Milan Corporation Co., Ltd.,

Kyoto Prefectural Federation of Consumers' Co-operative Associations

Product Sponsorship:

Yamako Corporation
Programs held
21st Kyoto International Student Film Festival Trailer
Timetable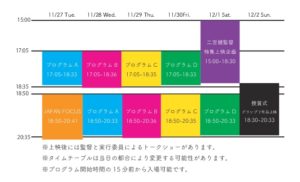 Films Selected in Competition (16 films from 11 countries)
Program A
"The Net" by Hae-guen Jeon
Korea / 32min /
The University of Suwon
"Mascarpone" by Jonas Riemer
Germany / 14min / Film University Babelsberg KONRAD WOLF
The Unbeaked, Hugo GLAVIER
France / 4min /
L'école Estienne
Little Red Riding Hood
by Lynn Oona Baur Germany / 8min /
Hamburg Media School
Program B
"Cairn Leaders" Shinobu
Soejima Japan / 7min / Tokyo University of the Arts
"ENDLING" by Alex Schaad
Germany / 30min / University of Television and Film, Munich
"10" Paula Konjušić
Croatia / 8min / Academy of Fine Arts Zagreb (ALU)
AAMIR, VIKA Evdokimenko
USA / 16min /
New York University
Program C
The Place of Oblivion
Fernanda Tovar Mexico / 18min
/ Centro de Capacitación Cinematográfica
"Fundamental" Shih-Chieh Chiu
Taiwan / 7min /
National Taiwan University of Arts
Facing Mecca, Jan-Eric Mack
Switzerland / 27min /
Zurich University of the Arts
"Overrun"
Pierre Ropars, Antonin Derory, Diane Thirault, Jérémie Cottard, Matthieu Druaud,

Adrien Zumbihl
France / 8min /
Supinfocom Rubika
Program D
"At her own pace" Yeo-ul Han
Korea / 26min / Sejong University
"Love Me, Fear Me"
Veronica Solomon Germany / 6min
/ Filmuniversität Babelsberg
KONRAD WOLF
『Flower Found!』 Jorn Leeuwerink
Netherlands / 6min / HKU University of the Arts Utrecht
"LIKE A GOOD KID" Vazirdaftari
Iran / 20min /
Tehran University of Dramatic Arts
Planned Program Screenings
(1) "JAPAN FOCUS" (11/27 screening)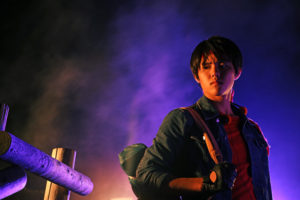 "Ichimonji Ken Prologue -The Strongest Kung Fu Boy vs. Hell's Murderous Karate User-"
Yu Nakamoto 66min
≪Synopsis≫
Yuta Ichimonji, the world's strongest martial artist, returns to Japan after three years. By chance, he meets Shirahata, a man who wants to be a manga artist, and Kurata, who is covered in debt. In front of the three people who meet each other, a mysterious murderous karate user appears! Ichimonji will throw himself into a fierce battle for his life …
(2) "Ken Ninomiya's Special Screening Project" (12/1 screening)


"Why did Komura shed tears with a straight face?"
2014 / 62min
The Limit of Sleeping Beauty

©2017 kingRecords
Arc Films / 89min

≪Synopsis≫
Komura, a byte leader, falls in love with a cute junior at his part-time job even though he has a girlfriend who lives with him.
≪Synopsis≫
It draws the viewer into an infinite world and writes with powerful images that do not take their eyes off it. And the uplifting worldview shown by the original script and detailed images foreshadows a new world that can be seen beyond despair. This commercial debut is full of visual beauty and leaves a strong impression on viewers.
Final Jury
Ken Ninomiya (Film Director)
Born in Osaka in 1991. SLUM-POLIS, which was announced as the graduation work of Osaka University of Arts in 2015, became a hot topic at film festivals in Japan and abroad, and was released in theaters nationwide. IN 2017, HE MADE HIS COMMERCIAL FILM DEBUT WITH THE LIMIT OF SLEEPING BEAUTY. The long-awaited new work "Chihuahua-chan" (19) has been released. Hosted the film screening event "SHINPA".
Jun Hirose (Professor, Faculty of Business Administration, Ryukoku University, Film Critic)
He has been teaching French, French civilization and film at Ryukoku University since 2004. He writes in Japanese, French, Spanish, Italian and English. He is the author of many books, including "Cinecapital" and "The Cause of Cinema". CineCapital is also published in Spanish and French.
Jun Wada (Animation artist)
Born in Hyogo Prefecture in 1980. He studied film at Osaka Kyoiku University, Image Forum Film Research Institute, and Tokyo University of the Arts. He started producing animation around 2002 and continues to produce with the major themes of "pause" and "pleasant movement". The Great Rabbit (12) won the Silver Bear Award in the Short Film Category at the Berlin International Film Festival. Currently, he is an associate professor at Otemae University, Osaka Kyoiku University, and Kyoto Seika University.
※In no particular order
Application Results
Application has been closed. Thank you very much for your submissions!
≪Click here for the application guidelines for the 21st Kyoto International Student Film Festival Competition≫
| Holding year | Domestic | Overseas | Meter |
| --- | --- | --- | --- |
| FY2018 | 98 works | 490 works | 588 works |
| FY2017 | 129 works | 356 works | 485 works |
| FY2016 | 168 works | 371 works | 539 works |
| FY2015 | 123 works | 94 works | 217 works |
| FY2014 | 163 works | 187 works | 350 works |
| FY2013 | 212 works | 145 works | 357 works |
Implementation Report
The 21st Kyoto International Student Film Festival discovers young talent who will lead the film industry of the future. It was held at the Film Theater of The Museum of Kyoto from Tuesday, November 27, and closed with great success on Sunday, December 2.
This year's competition (live-action and animation categories) received a record 588 entries from 33 countries and regions, and 16 films carefully selected by the student executive committee were screened.
At the award ceremony held on Sunday, December 2, the winning directors and the final judges, Ken Ninomiya, Jun Hirose, and Jun Wada, were invited as guests to announce the Grand Prix in the Live Action and Animation Categories, as well as the Final Jury Prize and Audience Award.
At the award ceremony, after screening the two Grand Prix films, we received comments from the final jury, and we were able to create a place for international exchange and mutual understanding through films.
The award-winning works are as follows: I wish the young coach all the best for his future success.
We would like to express our sincere gratitude to all the visitors and supporters of the festival.
Announcement of Competition Results
Grand Prix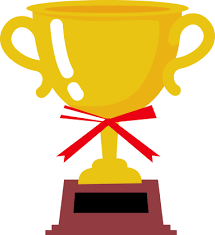 Grand Prix for Live-action Film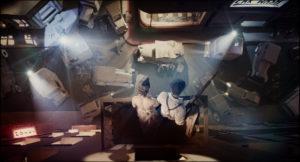 "Mascarpone" Jonas Riemer
GERMANY / 2018 / 14min / Film University Babelsberg KONRAD WOLF
≪Synopsis≫ Francis, a dreamy projectionist, gets involved with Mascarpone, who is known as a ruthless gangster, because of a car accident. Suddenly, he becomes a character in a gangster movie, where his dog, Farfale, is taken hostage and threatened to act as a watchman for a bank robbery. But the robbery fails, and Frances saves his dog and tries to capture the heart of star actress Vivian.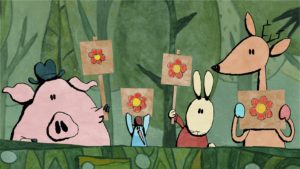 『Flower Found! / Bloem?』 Jorn Leeuwerink
Netherlands / 2017 / 6min / HKU University of the Arts Utrecht
≪Synopsis≫ The mouse is very sad. A red flower in the forest was blooming, but suddenly disappeared. So Tori took the mouse looking for flowers. After a while, the forest animals joined them. Finally, the group finds the flower, but things quickly get out of the mouse's control.
Final Jury Prize

Ken Ninomiya Award The Final Judge, Ken Ninomiya Award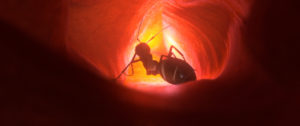 Overrun Animation
Pierre Ropars, Antonin Derory, Diane Thirault, Jérémie Cottard, Matthieu Druaud, Adrien Zumbihl
FRANCE / 2017 / 8min / Supinfocom Rubika
≪Synopsis≫ Overrun tells the story of an ant who wanders into a pitch-dark, cold world. The camera follows this lone ant as he travels through a seemingly dangerous and disturbing but fascinating world as he tries to escape.


The Final Judge, Jun Hirose Award

The Place of Oblivion/ El rincón del mundo a donde va lo que se olvida Live Action Fernanda
Tovar
MEXICO / 2018 / 18min / Centro de Capacitación Cinematográfica
≪Synopsis≫ Aura, Juan, and Evarist live in an old village called San Antonio del Quer. It has long been forgotten and no one is coming back. Aura, a young girl, plans to leave the village and search somewhere else to find the life she wants. But before that, he tries to convince his father and grandfather not to be swallowed up by oblivion and leave the village together.

Atsushi Wada Award The Final Judge, Atsushi Wada Award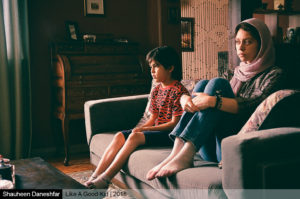 "LIKE A GOOD KID" Arian Vazirdaftari
Iran / 2018 / 20min / Tehran University of Dramatic Arts
≪Synopsis≫ 24-year-old Sarah was supposed to look after six-year-old Matin while his mother went to work. In the morning, Matin tells Sarah about his and his mother's quarrel that has been going on since the night before, and this leads them to experience a series of life-changing events that day.
Audience Award
* The Audience Award will be selected by aggregating a questionnaire of customers who viewed the works during the festival period, and one work in each category.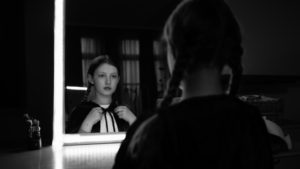 Little Red Riding Hood / Rotkäppchen Live Action Lynn Oona Baur
GERMANY / 2017 / 8min / Hamburg Media School
≪Synopsis≫ 2032. Ten-year-old Luisa and her mother, Anna, lived in totalitarian Germany. When a school play with Louisa turned into a crude propaganda campaign, Anna realized the need to protect her daughter. But it was probably too late.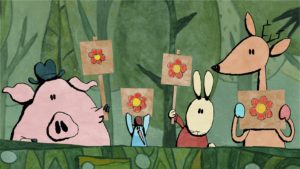 『Flower Found! / Bloem?』 Jorn Leeuwerink (Netherlands)
*Director Jorn Leeuwerink also won the Blanx Prix for Animation.
Pre-Event and Collaborative Planning
Pre
Cinema Train September 8 (Sat)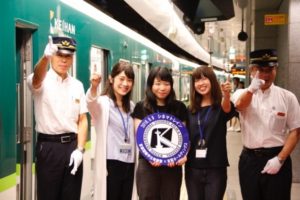 In collaboration with Keihan Holding, we held a pre-event "Cinema Train". We chartered the Keihan Railway and screened past winning works on the train from the starting point Nakanoshima Station to the final stop Demachiyanagi Station. We were able to enjoy the experience of watching a movie on the train, which is not usually possible.
Pre-planning
Location Discovery Photo Contest in Demachiyanagi
Demachiyanagi has been the setting for many works. With the theme of "places and things that you will want to use as a scene in a movie", #京都国際学生映画祭のハッシュタグで写真を募集しました. Demachiyanagi #movies on SNS such as Twitter and Instagram.
Trophy Design Contest
This year, we tried to invite students to design the trophy.
| | |
| --- | --- |
| | |
| Live-Action Division | Animation Division |
Creator: Hoka Kamimae (1st year student at Otemae Nutrition and Confectionery College)
Comment from the producer
【Live-Action Division】

To make it easier to understand the movie, I first placed a clapperboard as a base, and then drew a five-storied pagoda in the back with the image of Kyoto. The flower of Kyoto Prefecture was the weeping cherry blossom, so I scattered it around as a common point with the animation department.

【Animation Division】

The base is a film of the movie, and the Kyoto motif is a torii gate. I arranged it to contrast it with the live-action department. Since the actual product is printed in white, it was difficult to come up with a design that would shine only in white.
Collaborative Projects
Camo Cinema 14 Invited Screening August 18 (Sat)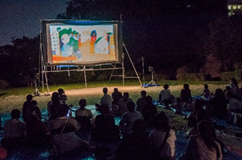 We had an invited screening at Camo Cinema, which holds outdoor movie screenings every summer. On the day of the event, the 20th winning film, "Here AND There" directed by Komitsu, was screened.
Since the film was screened on the riverbed of the Kamo River, visitors were able to enjoy watching the film while interacting with the connection between people and nature.
Kyoto Student Festival booth October 7 (Sun)
We exhibited a booth at the 16th Kyoto Student Festival. On the day of the festival, people of all ages, from children to adults, were able to catch their eyes and let them know about the existence of the film festival.
Kyoto International Film Festival Invitational Screening: October 13 (Sat)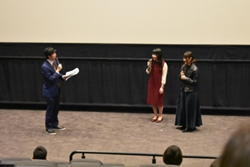 As one of the projects of the Kyoto International Film Festival, we were invited to screen at AEON Cinema Kyoto Katsuragawa. In addition to screening two past films of this film festival, a talk event was held and the organizing committee members had a good experience in preparation for the 21st film festival.
Special site
| | |
| --- | --- |
| | |
| @kisfvf | official website |
executive committee
Would you like to participate in the 21st Kyoto International Film Festival Film Festival? We are currently looking for students who can make the film festival more exciting.
The film festival receives a variety of submissions, both domestic and international. The executive committee is student-led in the process of recruiting films, judging, and planning the film festival. Through a series of activities such as public relations activities and sponsorship requests, you can learn the know-how of film festival management.
Students from various universities and faculties participate in the executive committee regardless of grade, so friendships expand. Even if you are a beginner, senior executive committee members and university consortium Kyoto staff will support your activities, so please feel free to contact us.

Place of activity
Campus Plaza Kyoto (6F Office, 5F Joint Laboratory)
Frequency of activity
About 1~2 plenary meetings per week, work appreciation, training, etc. (depending on the month)
Department Introduction
Main festival department, public relations department, etc.
Participating Universities
(Achievements)
Kyoto University, Kyoto Institute of Technology, Kyoto University of Foreign Studies, Kyoto College of Nursing, Saga Art University, Kyoto Sangyo University, Kyoto Women's University, The Graduate University of Informatics, Kyoto University of Art and Design, Kyoto Pharmaceutical University, Seian University of Art and Design, Doshisha Women's University, Doshisha University, Bukkyo University, Ritsumeikan University, Ryukoku University, Kobe University, Kansai University,

etc.

Organizers
University Consortium Kyoto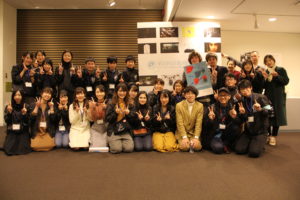 Contact us
21st Kyoto International Student Film Festival Executive Committee
〒600-8216 Campus Plaza Kyoto
, Shimogyo-ku, Nishinotoin-dori Shiokojisagaru TEL: 075-353-9430 (closed on Mondays) FAX: 075-353-9101
E-MAIL:info■kisfvf.com (Please change ■ to @ and send it)
HP: http://www.kisfvf.com/