About us
Kyoto International Student Film & Video Festival is the largest international student film festival in Japan, all is organized and run by university students in Kyoto. We call student's work from all over the world, provide opportunity of the screening and discover the new talent.
Kyoto is well known as "Cinema City" where a lot of heritages that contributed the development of Japanese Cinema. Kyoto is also known as "College City, Student City" , students taking up 10% of the population.
The festival strings these two characteristics together, and also offers forum for cultural and international exchange and ultimately vitalizes Kyoto.
Event Outline
The concept in 2015: 「The Film & Video Festival that comes from Kyoto」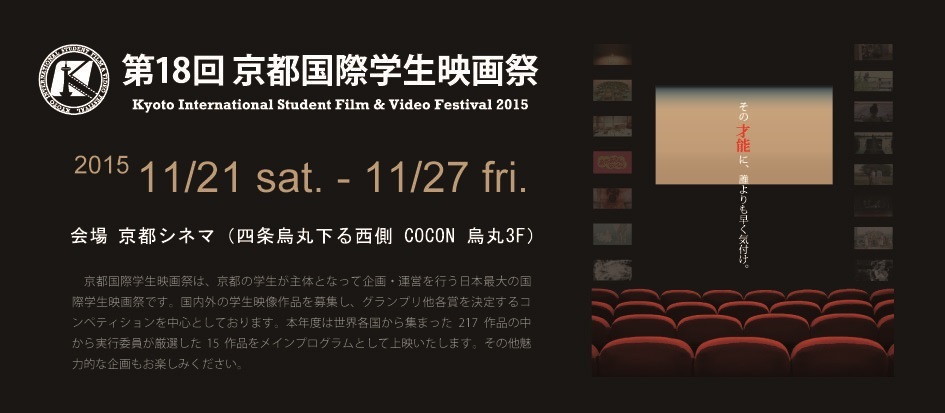 DATE

FROM 21th November through 27th November,2015

PLACE
TICKET

・1PROGRAM: ¥500・All PROGRAM: (Advance ticket)¥1,000 / (Today's ticket)¥1,500
Program
Trailer (
URL
http://youtu.be/Wq8yU_nBE3E
TIME TABLE

Introduction of the program
1.competition program A-D&Special program
Program to show 15 works that a member of the executive committee selected carefully from all 217 submissions in 24 countries.
【competition program A-D 】
2.commendation ceremony/screeing grand prix works
The last program that final judge and director winning student gather in a hall.
Which work win the grand prix?
Date

Contents

11/27 fri.
18:00~
21:30
■Commendation
■Screening Grand Prize Films
■Talk Show(Grand Prize Film's Directors × Final Judges × Studentstaff )
Supporter
Find us on

【https://www.facebook.com/KISFVF】

【@kisfvf】
The Information
Kyoto International Student Film & Video Festival 2015 Office
c/o The Consortium of Universities in Kyoto Campus Plaza Kyoto
Nishino-Toin- dori Shiokoji sagaru, Shimogyo-ku, Kyoto 600-8216 JAPAN
TEL: +81 75 353 9430 (closed on Mondays)
FAX: +81 75 353 9101
E-MAIL:info@kisfvf.com