You can download the FY2015 Activity Report data from here.

Outline of the event
Gakumachi Collaboration (University Community Collaboration Creation and Support) Project
Meeting: Sunday, March 29
, 2015 Period: April 1, 2015 (Wed) ~ May 15, 2015 (Fri)
First screening: Wednesday, June 10, 2015 *Document screening Second screening: Sunday, June 28, 2015 *Public presentation screening
Notification of results: Early
July, 2015 Approval Ceremony: Friday, July 10, 2015 11:00~12:00* Kyoto City issued a certificate of certification for the selected project.
Interim report: Friday, October 30, 2015 (submission of documents) Final report: Thursday, March 10, 2016 (for projects completed in February 2016, projects completed in March are set on a separate date) * Submission
of documents
Report: Sunday, March 27, 2016
Application
Period of application
April 1, 2015 (Wed) ~ May 15, 2015 (Fri)
*Same day if mailed, 5pm if you bring your own

Click here to download the documents related to < 27 business recruitment> ● Application guidelines (PDF link) ● Application form (Word link) ● -ERR:REF-NOT-FOUND-Application form _ Entry example (PDF

link)
[Recruitment for Heisei 27 "Learning Town Collaboration Project" has ended.
】
Selection Results
First screening (document screening)
18 projects that passed the first round
Second screening (public presentation screening)
Sunday, June 28, 2015 10:00~15:30
Selected (passed the second screening) Organizations 14 projects 【Supported Projects】14 projects
Application project name
[Support amount]
Name of organization


[Name of related university / activity administrative region]

Overview of the business
Otomodachi Great Strategy! ~Concert from 0 years old~
【300,000 yen】
Niconico Family Concert Executive Committee by Kyoto
City University of Arts Student Volunteers 【Kyoto City University of Arts / Shimogyo-ku, Ukyo-ku】
The "Hokkori Space" in Ukyo Ward was established based on the Kyoto City project "Tsudoi no Hiroba" with the aim of "alleviating the burden on parents while raising children and creating an environment where they can raise children with peace of mind." We will continue to hold concerts and music workshops for parents and children, aiming to create a place where parents and children can relax and connect with each other.
Similarly, it will be held at Friendly House Nishihachijo in Shimogyo Ward, where the same activity was held last year.
Keihoku Utsu Fureai Learning 【
300,000 yen】
Kyoto Seika University Keihoku Utsuho Search Association 【Kyoto Seika University
/ Ukyo-ku】

In this year's project, we will focus on communicating the appeal of Utsu in various ways, both inside and outside the country. Children's photography classes are held in four seasons, and the photos are published on the website, used in the Uzu regional calendar, photo books, etc. The Uzu area map created last year will be revised, and at the same time, regional information signboards will be created. The materials left at the former Uzu Elementary School will be created into a database and archived to encourage external use. In addition, exchange events between university students and the local community will be held.

Fushimi / Fukakusa Community Archive
[300,000 yen]
Fushimi / Fukakusa Community Archive Project
【Ryukoku University/Fushimi Ward】

Activities to preserve local "records" and "memories" as intellectual property are becoming active throughout the country. In this project, students and local residents will continue to collect, digitize, and publish materials (deteriorating 8mm film) that record the townscape and lifestyle of the Showa era from the viewpoint of the city as local materials, and this year we will conduct the work of transcribing valuable testimonies through interviews with residents who retain their memories, and archive the local community of the Showa era through video and narrative.

Fushimi-Fukakusa-Higashitakase River Environmental Protection and Jizo Bon Project
【300,000 yen】
Ryukoku University-Higashitakasegawa Environmental Protection and Jizo Bon Project Team
【Ryukoku University Junior College/Fushimi Ward】

The Higashitakase River is cleaned and mowed by local organizations, neighborhood associations and neighborhood associations, and students of the Fushimi Technical High School's Department of System Engineering. Last year's volunteer activities at the Kawakubo Town Jizo Basin, which was set against the backdrop of the Higashi-Takase River, were very well received by the local community. This year, I would like to be involved in cleanup activities on the Higashi-Takase River and participate in environmental protection and community development. In addition to simply participating in events, we would like to deepen the history and research of the Jizo Basin and make it an activity that can share the results with the local community.

Bicycle Taxi Lopoli
[300,000 yen]
Mizonobashi 801 Shopping Street Promotion Association
【Kyoto Sangyo University/Kita-ku】

In cooperation with Kyoto Sangyo University students, we will start operating bicycle taxis as a new means of transportation for elderly people and people with disabilities who are estranged from going out, or who have a destination but have restrictions on the means of going back and forth = vulnerable people. The destination (purpose of use) is assumed to be shopping, going to the hospital, restaurants, etc. in the shopping district, the fare is 500 yen one way, the operation is 10 a.m. ~ 1 p.m. (3 hours a day) 2 days a week (Wednesday and Thursday), and the telephone reception is 10 a.m. ~ 4 p.m. every day (Wednesday ~ Sunday).

Symbiosis Project between Local Communities and Universities
【300,000 yen】
Kyoto Keizai Junior College: Symbiosis Project
between Local Communities and Universities 【Kyoto Keizai Junior College/Nishikyo-ku】

Initiatives in which students interact with local residents through round-table discussions over lunch with local elderly people every Friday, seminars by experts to solve problems, and interviews and surveys with local residents, so that they can become aware of problems together with local residents and then solve regional issues. Rakusai New Town is an artificially created community, so it seems to be a precursor to the challenges that arise in any region. It can be recognized as the starting point for young people when thinking about future "urban development".

Awataguchi Chanoyu Town Development
[300,000 yen]
Shirakawa Creation Association
【Hanazono University, Ritsumeikan University, Kacho University, Kyoto Tachibana University/Higashiyama Ward】
・Students take the lead in implementing three tea ceremony projects that respond to local issues and needs.
・In order to attract many visitors, it will be held in conjunction with local events (Jizo Basin, Awata Shrine Noryo, Higashiyama Flower Lantern).
・In each project, senior tea staff will provide support so that students can proceed smoothly while learning management methods.
・Record the contents of the project and the opinions of visitors, and finally edit it as a booklet and distribute it to the community.
Kyoto Sanjo-kai Shopping Street Terakoya Business
[300,000 yen]
Kyoto Koka Women's University Koka Sanjo Girls 【Kyoto Koka Women's University
/Nakagyo-ku】

This project aims to further revitalize the Sanjo-kai shopping district by planning and implementing pre-events and seasonal events in conjunction with shopping street events (last year's Tanabata Night Market and Shopping Street Centennial Calligraphy Exhibition, etc.), and by conducting activities that serve as a playground and learning place for children and as a community place for local residents. This year, students will actively participate in the event of the shopping district and Terakoya to expand their connections.

Arashiyama Art Project
【300,000 yen】
Kyoto Saga University of the Arts Faculty of Art, Department of Design, Department of Tourism Design 【Kyoto Saga University of the Arts
/Ukyo-ku】

We will carry out a project to exhibit art works by students of the University of the Arts in Arashiyama, a major tourist destination in Kyoto. In addition to holding art exhibitions and events at Arashiden Arashiyama Station and commercial facilities, in order to strengthen cooperation with the local community, we will focus on the toilets that have the most questions in Arashiyama and create an art space that creates laughter from the perspective of students. Through these efforts, we hope to contribute to the inheritance and development of the original charm of the Arashiyama area as a town of art.

Hoen ~Engawa Project that Connects Beyond Time and Distance~
【300,000 yen】
Toyoen ~Engawa Project to Connect People~ Executive Committee
【Ryukoku University/Shimogyo-ku】

Our business is something that can be easily participated in by people of all ages, from young people to the elderly. As a plan, we will hold a town vegetable expo, a handmade plaza, and screenings. At the Vegetable Expo, we will take in vegetables from other regions and hold cooking classes using vegetables from that region. At the handmade plaza, craftsmen and local people will teach us how to make things, and at the screening, a video comparing the past and the present will be broadcast, promoting intergenerational exchange from children to the elderly.

Miyako Light '15
[150,000 yen]
Miyako Light Executive Committee
【Doshisha University, Kyoto Prefectural University, Ritsumeikan University, Kyoto Sangyo University, Ryukoku University/Kamigyo-ku】
The Tokyo Metropolitan Light Executive Committee is operated by working staff, mainly students attending universities in Kyoto.
By lighting up and seeing and experiencing the townhouses and townscapes, which are unique buildings of Japan that are decreasing year by year, the aim is to have locals and visitors rediscover the charm and lifestyle of machiya and the ancient traditions of Kyoto, and to take an interest in machiya conservation and the area.
Camo Cinema 11
【150,000 yen】
Ritsumeikan University Camo Cinema Executive Committee
【Ritsumeikan University/Kamigyo Ward】

Once a month, they participate in the Kamogawa Beautification Association's Clean Hike, and on August 22, they clean up the Kamogawa River at noon and screen movies on the Kamogawa River in the evening. By doing so, many people will know the unique charm of the Kamogawa space, and the number of people who want to cherish the Kamogawa River will increase as much as possible. We are conducting this project with the idea that if people like the Kamo River, the desire to cherish the Kamo River will develop in the people, which will lead to beautification.

Remembering and Recording 2 ~Creating Work~
【300,000 yen】
Kyoto University of Art and Design Modern Industrial Heritage Art Revitalization Project "Maka-dori IX." 【Kyoto University of Art and Design
/Higashiyama-ku】

We are celebrating our 11th year of regional development activities centered on the Rokuhara School District in Higashiyama Ward. We have been closely tied to the community, digging up overlooked cultures and forgotten and buried histories and resources from an artistic perspective, and conducting activities to make residents aware of them at numerous events and workshops. This year, we will continue our activities so far and explore the possibilities for creating industries (jobs) by utilizing the town's resources (pottery and zhongli).

Inari Gaku~Club's Okoshiyasu, Travel Manners
【300,000 yen】
Ryukoku Project to Support the Environment of Mirai
【Ryukoku University/Fushimi Ward】

This project focuses on the whole of Kyoto, centered on Fushimi Inari Taisha Shrine, and implements practical initiatives on travel manners and hospitality for foreign tourists visiting Japan. It is broadly divided into three pillars: (1) collection and analysis of travel etiquette information, (2) planning and implementation of manners communication, and (3) dissemination of project results. By thinking about travel etiquette for foreign tourists from the perspective of students, we will promote mutual understanding between the region and tourists.
Implementation Report
27 Public presentation examination (second screening)
On Sunday, June 28, 2015, Campus Plaza Kyoto held a public presentation screening (second screening) to determine the projects selected for this fiscal year.
This year, 17 projects that passed the document screening in the first round of screening participated in the presentation screening, and each organization made elaborate presentations to appeal the effects and characteristics of the project and the enthusiasm for the project. During the Q&A session, the students responded to the selection committee members with great enthusiasm, and as a wonderful initiative for regional revitalization, the students fully demonstrated the results of their preparations so far.
In addition, a total of 125 people, including those related to the presenting organizations, attended the venue and listened attentively to the students' presentations on their rich ideas and initiatives in collaboration with the local community.


27 Business certification ceremony
On Friday, July 10, 2015, a certification ceremony was held at Kyoto City Hall in the presence of Kyoto Mayor Kadokawa and the selection committee for the 14 projects adopted this year.
At the certification ceremony, the mayor will award certificates to the representatives of each project, and representatives of each certified organization will express their determination to implement the project, and future activities are expected.
After the certification ceremony, the selection committee members gave comments and advice to each of the selected organizations, and each organization made a strong start toward regional revitalization.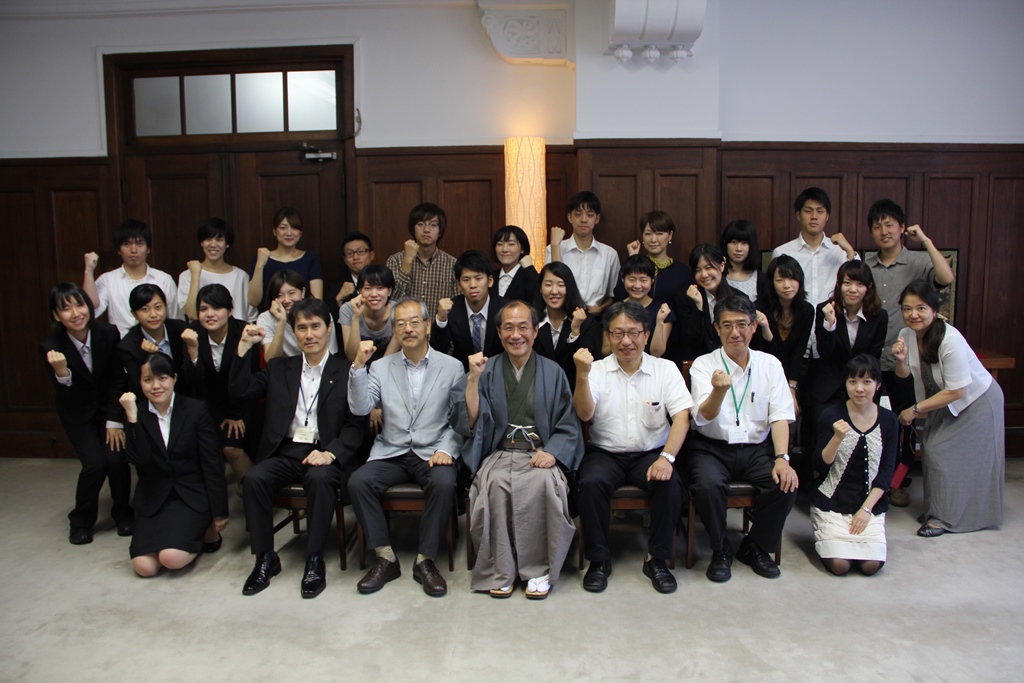 27 Report Session
On Sunday, March 27, 2016, a report meeting was held at Campus Plaza Kyoto. In addition, on the day of the event, in addition to holding a recruitment briefing session for Heisei 28 at the same time, we also used the screening time to participate not only related parties but also visitors, and held an opinion exchange meeting and an exchange meeting.
≫
≪ report meeting, 13 of the 14 organizations adopted this year (one group was absent) reported their activities. Taking advantage of the 8 minutes that each organization has to do, they present the results of their activities in their own presentations. The presentation gave each organization a very good understanding of the various initiatives that have been carried out in the region so far. In the Q&A session for four minutes after the presentation, it was evident that they sincerely responded to questions from the judges.


≪Opinion exchange meeting and exchange meeting ≫
facilitated by Kyoto City Urban Development Advisors, and after the debriefing session, opinion exchange meetings and exchange meetings were held as a place to casually discuss what they learned from being involved in the learning town collaboration project. Approximately 50 participants, including not only those involved in the selected organizations but also those who came to listen to the presentations, were divided into groups of 4 or 5 people and exchanged opinions while changing group members on the themes of what they learned and what they learned from the activities, specific episodes that led to learning, what they would like to do in the future through regional cooperation, and what they expect. In addition, in order to share what they talked about in these groups, they wrote down what impressed them at the end on sticky notes and posted them on the board, further deepening their exchange.


Following on from last year's ≫≪
award ceremony and commentary, we again commended business organizations that have achieved excellent results this fiscal year. This year's Outstanding Organization was selected by the "Niconico Family Concert Executive Committee of Kyoto City University of Arts Student Volunteers," which received the award in recognition of their proper implementation of the objectives clearly stated at the time of application and their activities being clearly stated in their own words. Congratulations!!
In addition, we hope that all organizations will make use of the learnings and connections gained through their activities and continue their activities in the future!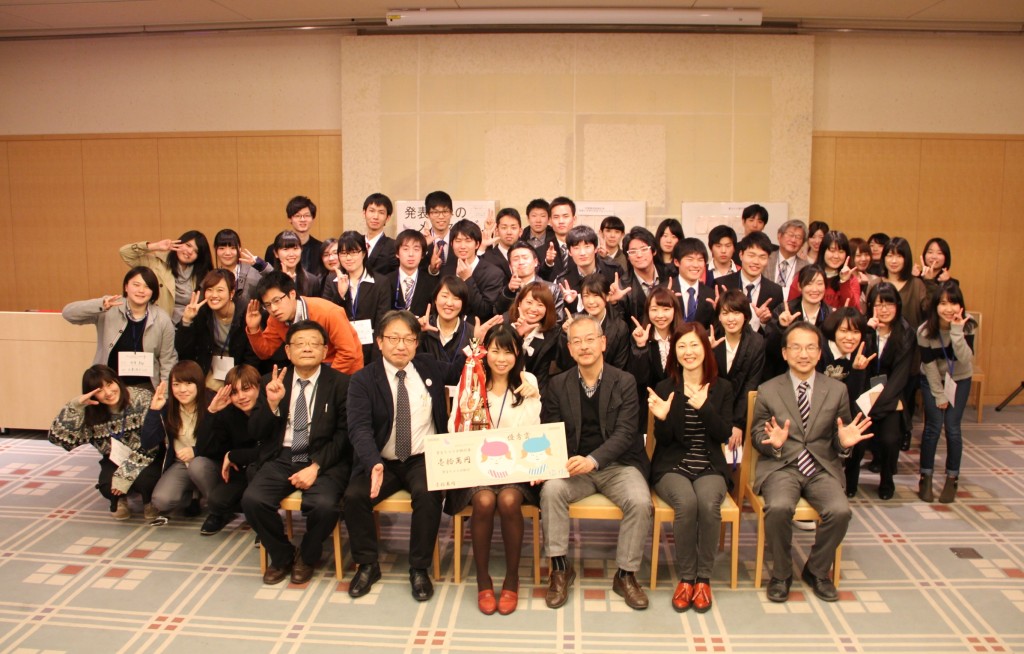 Where to submit application documents and inquiries
University Consortium Kyoto in charge
of the academic town collaboration project TEL:075-353-9130 FAX:075-353-9101
MAIL:gakumachi-admin-ml■consortium.or.jp (Please change ■
to @ and send)
600-8216 Campus Plaza Kyoto
, Shimogyo-ku, Kyoto *Reception hours: Tuesday ~ Saturday 9:00 ~ 17:00