Outline of the event
2015 Kyoto FD Executive School
Schedule

Saturday, June 20, 2015, 11:30~12:30

Venue

Campus Plaza Kyoto 2F Conference Room 1

Organizer

University Consortium Kyoto

Target

Executive faculty and staff of consortium member universities and junior colleges

Content

テーマ
Waseda Vision 150による大学教育改革への挑戦
概要
早稲田はどんな大学であるべきかという視点に立ち、これを創立者である大隈重信の理念に照らし合わせて方向性を定めた「Waseda Vision 150」の数値管理を担当している大野髙裕先生からご講演いただきます。ヴィジョン策定の際の問題意識と明確な数値目標を掲げた計画の推進がどのようになされているか、目標達成に向けての取り組み、またその評価をどのようにされているのかについてを中心に、ヴィジョン実現のためのトップマネジメントの役割や留意事項等について。
講師
大野 髙裕氏
(早稲田大学 情報化推進・経営企画担当理事・教授)
1978年早稲田大学理工学部卒業後、1986年早稲田大学大学院理工学研究科博士課程修了し、1988年工学博士(早稲田大学) 取得。
1984年早稲田大学理工学部工業経営学科に助手として就任、1994年より教授、2005年より留学センター所長、2006年8月よりポスドク・キャリアセンター所長、2006年より国際部長、2010年より教務部長、2014年より現職。
現在、早稲田大学理事(情報化推進・経営企画担当)であり、中央教育審議会専門委員(文部科学省)、特級技能検定試験委員(厚生労働省)、職業能力開発専門調査員(厚生労働省)、中小企業診断士試験委員(経済産業省)などを務める。
主な著書として、多変量解析入門(同友館)、初めての人の損益計算書入門塾(かんき出版)、企業行動と経営学(中央経済社)、管理・監督者のための特級技能検定(職業能率開発協会)、労務管理(産業能率短期大学)などがある。
専門はプロフィット・デザイン研究、戦略的意思決定ツール開発、業務的意思決定ツール開発
Implementation Report
On Saturday, June 20, 2015, the University Consortium Kyoto held the "2015 Kyoto FD Executive School."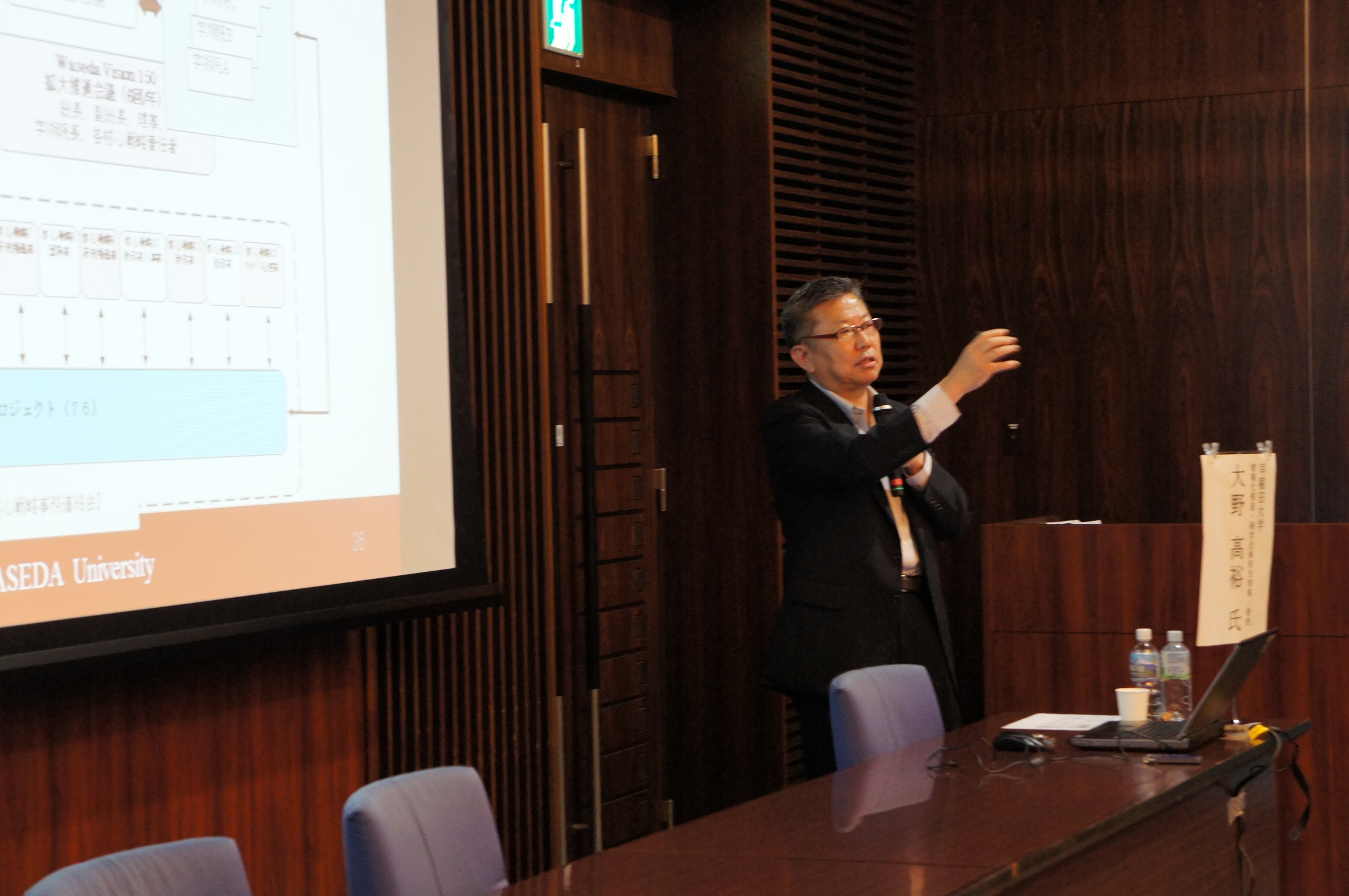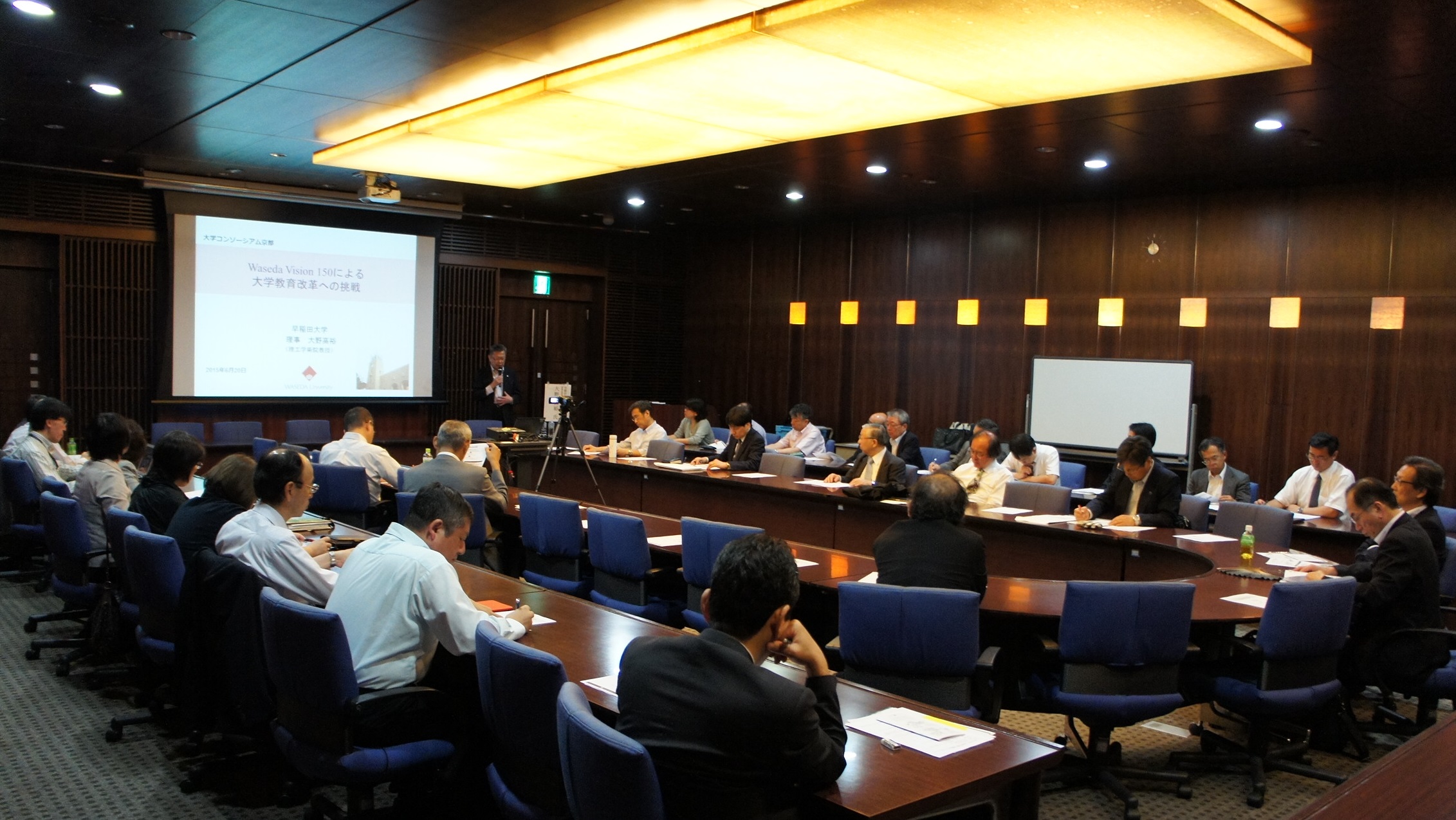 We welcomed 31 participants, mainly from the university executive committee, including the presidents of the 50 member universities, and Dr. Takahiro Ohno of Waseda University gave a lecture titled "The Challenge of University Education Reform through Waseda Vision 150." The lecture was very specific and thought-provoking, from the transition and formulation process of the medium- to long-term plan until the creation of Waseda Vision 150, to the keys and main issues of realizing Waseda Vision 150, and although the lecture was given in a limited time after the general meeting of the consortium, many participants said that they would have liked to hear it more closely.
In the post-questionnaire from the participants, "It was highly specific and informational," and "I learned the importance of creating a vision for 20 years from now and setting numerical targets, as well as the system and methods of initiatives." Comments such as "I was able to think about the current situation of my own university from the situation at Waseda University" were received.
Contact information
Consortium of Universities Kyoto FD Project
TEL 075-353-9163 FAX 075-353-9101
〒600-8216 Campus Plaza Kyoto
, Shimogyo-ku, Kyoto *Reception hours: Tuesday ~ Saturday 9:00~17:00 (excluding year-end and New Year holidays)