Overview of the business
The purpose of this program is to provide opportunities for students who are conducting research to identify and solve the problems faced by cities to make presentations, as well as to provide opportunities for research exchange including faculty members, to present their results and deepen their own research. Excellent presentations receive research encouragement awards (Kyoto Prefectural Governor's Award, Kyoto Mayor's Award, University Consortium Kyoto President's Award, Japan Society for Public Policy Award, etc.).
Outline of the event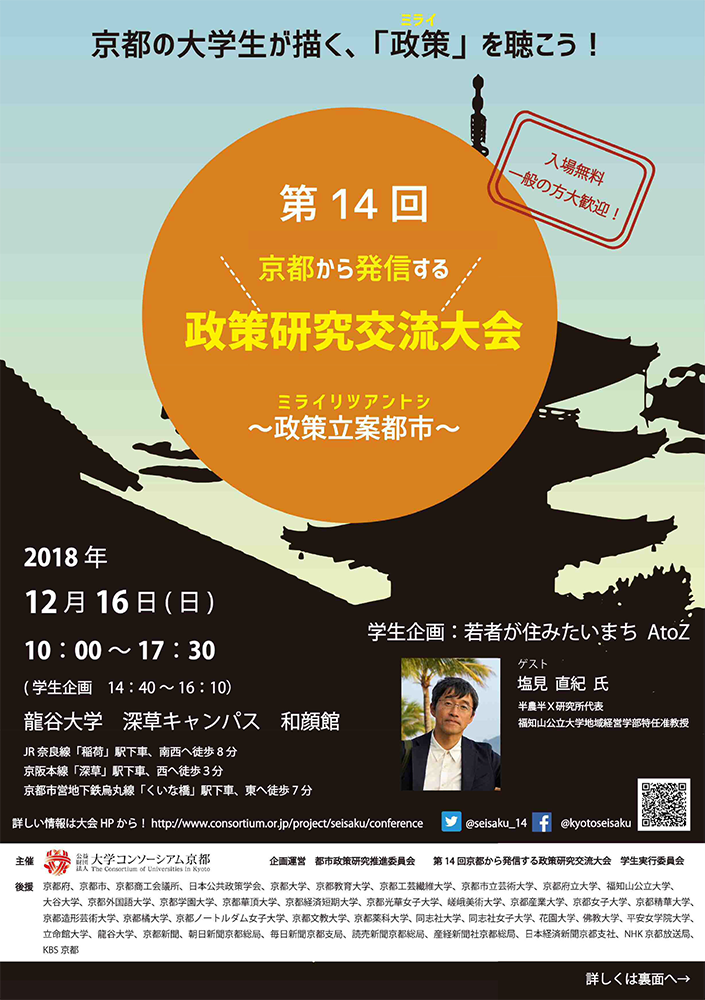 The 14th Policy Research Exchange Conference from Kyoto
This year, the 14th edition of the conference since fiscal 2005, is "Urban Policy in General" and a wide range of research presentations are invited on policies to solve urban issues from various perspectives such as the environment, economy, culture, community, and welfare. Why don't you deepen exchanges among students not only at universities and graduate schools with policy faculties, but also beyond the boundaries of universities and seminars, and propose policy proposals and disseminate information about the results of daily research and learning to local communities?
We look forward to hearing your presentations!
Re

Sunday, December 16, 2018 10:00~17:30 (expected to end)

Place
Ryukoku University Fukakusa Campus Washakukan 〒612-8577 67
Fukakusazuka
Honcho, Fushimi-ku, Kyoto City (access) →Ryukoku University HP (access) is here
, get off at Inari Station on the JR Nara Line, walk about 8 minutesGet off at Fukakusa Station on the Keihan Main Line, walk about 3 minutesGet

off at Kuinabashi Station on the Kyoto Municipal Subway Karasuma Line, walk about 7 minutes.

Hosted
University Consortium Kyoto
Planning & Operation
Urban Policy Research Promotion Committee The 14th Policy Research Exchange Conference from Kyoto Student Executive Committee
Presentation
Theme
Theme: "Urban Policy in General" (The word "city" here is not limited to "urban") You
can freely think about the fields that are themes in urban policy, such as "environment," "economy," "culture," "community," and "welfare."

≪ points to note≫
Clarify the awareness of the issues and issues, and structure the policy proposal so that it is concrete and original based on the background behind it and the current situation and analysis.
Graduate students may also report on their research on policy at the graduate school.

Presentation Format
Please select one of the formats.

Oral presentation


| Area | announcement | Q&A | Total |
| --- | --- | --- | --- |
| undergraduate | 15 mins. | 15 mins. | 30 minutes |
| graduate student | 20 minutes | 15 mins. | 35 mins |

Materials will be displayed on the panel presentation
panel, explanations will be given to visitors, and questions will be answered by the judges.
The tournament on Sunday, December 16
On Sunday, December 16, the 14th Policy Research Exchange Conference from Kyoto was held at Ryukoku University's Fukakusa Campus Washakan Campus.
This year marks the 14th time that students and graduate students who identify problems and issues faced by cities and conduct research to solve them present their research results.
Fifty-five groups gave oral presentations in 10 subcommittees on tourism and culture. Both the students who give presentations and the students who ask questions are serious. The enthusiastic question-and-answer session and advice from the judges seemed to give the students hints for deepening their research in the future.
Seventeen groups participated in the panel presentation. Through research presentations, many students deepened exchanges with students from other universities who they rarely have the opportunity to meet.
In the student project in which Professor Naoki Shiomi of Fukuchiyama Public University was invited as a guest speaker, under the title of "A to Z, a town where young people want to live," images of the city they want to live in were presented in keywords and sentences collected from the participants, and Professor Shiomi gave a lecture on it.
And the award ceremony. When the names of the award winners were announced in the hall, there was a roar and cheer, and the award winners shared their thoughts on this research presentation along with their impressions.
The number of entries is increasing year by year, and this tournament is attracting more and more attention. From the expressions and words of the participating students, it was clear that they had great opportunities for learning and exchange this year as well.

Oral presentation (breakout session) 1

Oral presentation (breakout session) 2

Panel presentation 1

Panel presentation 2

Student project: Guest lecture in the venue

Student Planning: Students Participating in the Venue

Award Ceremony: Scene from the venue

Award Ceremony: Kyoto Mayor's Award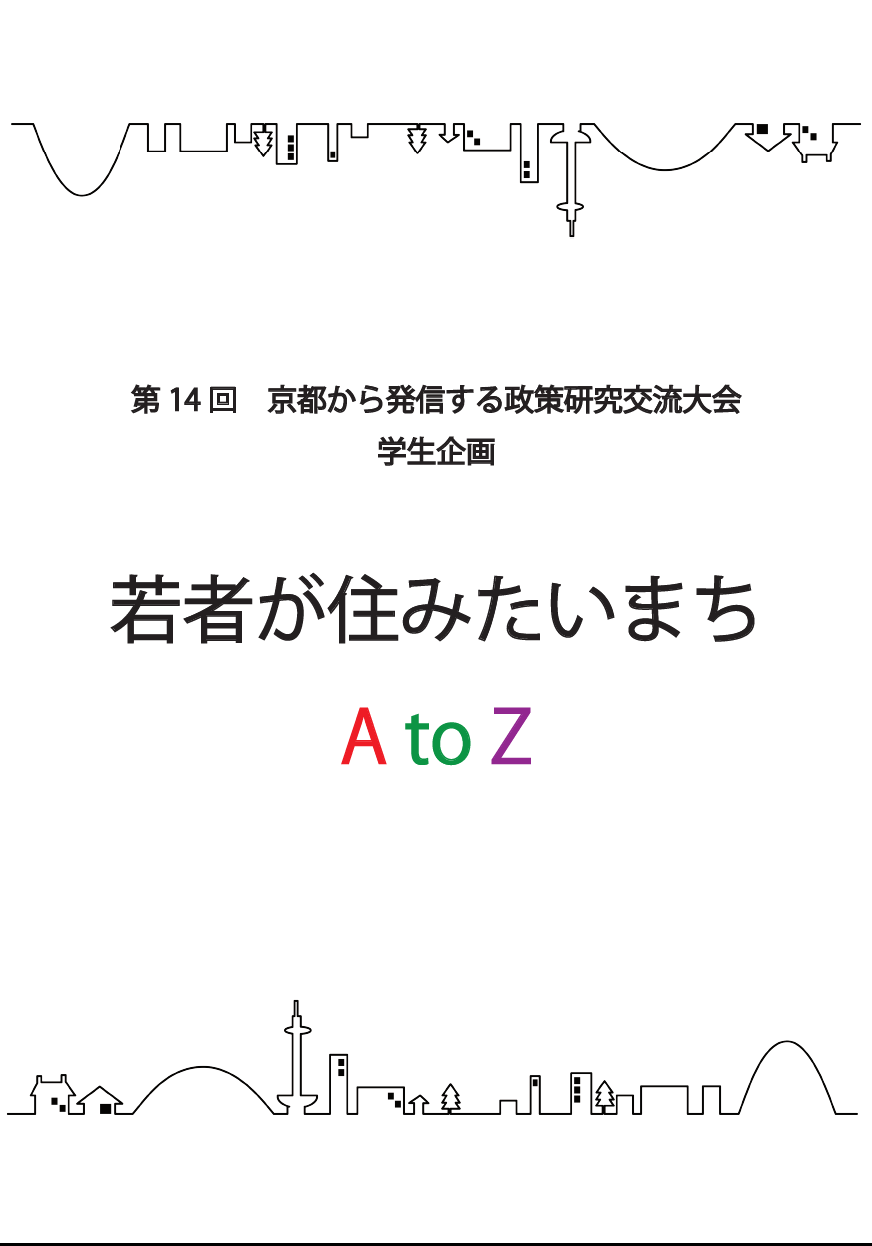 Student Event: Handout "A to Z City Where Young People Want to Live"
Research Encouragement Award Winners
(

Click to view the PDF data * Only those with permission are posted)
Name of Certificate
category
Type
Presentation Title
Area
Name of organizations
Name of university
Representative (
Presenter)
Thesis
PPT
Kyoto Prefectural Governor's Award
Oral presentation
(graduate school)
oral
Evaluation of Height Regulations in Landscape Policy of Kyoto City from the Viewpoint of Wind Environment
Personal
Yuki Kan
Ritsumeikan University Graduate School
Yuki Kan


Kyoto Mayor's Award
Oral presentation
(undergraduate)
oral
Katei × Katei
– Creating the future from vacant houses –
Organizations
F230
Kyoto Bunkyo University
Shunji Takano


oral
Aiming to create the charm of individual stores and build a regional network -C'mon baby Shinmachi-
Organizations
Project S
Kyoto Prefectural University
Shione Koshino
University Consortium
Kyoto President's Award
Panel Presentations
panel
The Current State of Sovereign Education and New Developments through Policy Evaluation Games
Organizations
Faculty of
Public Policy 2nd Year Kubota Seminar
Kyoto Prefectural University
Aoi Onuki
Japan Public Policy Association Award
Article
oral
Tourism Against the Waves of the Times: A Proposal for a Paradigm Shift in Tourism
Using the Case of Ineura
Organizations
Aquatourism Project
Ritsumeikan University
Hidetoshi Mimura


oral
Evaluation of Height Regulations in Landscape Policy of Kyoto City from the Viewpoint of Wind Environment
Personal
Yuki Kan
Ritsumeikan University Graduate School
Yuki Kan


Excellence Award
Oral presentation
oral
Building a foundation for regional survival through tourism
Organizations
Imazato Seminar
Ryukoku University
Naoki Noguchi


oral
Verification of Road Pricing Policy in Kyoto
Organizations
Kazama Seminar Road Pricing Team
Doshisha University
Rina Hirano


oral
Passing on the tradition of the festival to the next generation -The case of Agematsu, Miyama-cho, Nantan City, Kyoto Prefecture-
Organizations
Otani Seminar Miyama Group
Bukkyo University
Masaya Okuda


oral
How
can community exchange facilities be revitalized?-Through the efforts of the "Fureai Salon for the Elderly" in the Senbon area, Kita-ku, Kyoto City –
Organizations
Ōzuka Seminar Furakita Hokkori Hiroma Gloop
Bukkyo University
Ai Tadada


oral
Can
Kyoto City's food waste be reduced to zero~Building a recycling-oriented society through mass disposal of food~
Organizations
Fukao Seminar C
Ryukoku University
Sakiho Akimoto


oral
Pachinko Hall
Used as a Regional Disaster Prevention Base -Participation in Community Disaster Prevention as a CSR Activity-
Personal
Masahiro Takayama
Ritsumeikan University
Masahiro Takayama


oral
Women's
Empowerment in Japan-Type Employment Practices: Focusing on Personnel Evaluation Systems in Local Governments
Organizations
Kamikubo Seminar Women's Social Promotion Group
Ritsumeikan University
Kei Nakahara


oral
Scholarships for Community Companies and Students
Organizations
Sakamoto Seminar
Kyoto Tachibana University
Mikako Takeuchi


panel
Research on Driving Support for the Elderly ~Focusing on Before and After Returning License~
Organizations
Inoue Seminar
Ryukoku University
Haruna Otsubo
panel
Vacant House Youth After-School Care
Organizations
Shinkawa Team
Doshisha University
Ryosuke Kasai
panel
Improving the convenience of Kyoto City Bus
Organizations
Shinkawa Seminar Team Ryoji
Doshisha University
Nozomi Hata
About Submission
◆Please check the application guidelines. → Application Guidelines
■Qualifications

Students and graduate students of member universities and junior colleges of the University Consortium Kyoto (both individuals and groups are acceptable)
* In the case of a group, it is possible if the representative meets the above conditions.

■How to apply

To apply, both Step (1) "Presenter Entry" and Step (2) "Submission of Presentation Paper" are required.
≫≫Step (1) Presenter Entry (Deadline: Saturday, October 20)
Please click the application button below, fill out the presenter application form, and enter.
End
You will receive an automatic reply email when your entry is completed. In this automatic reply email, we will inform you of the URL and reference number required for "Submission of Presentation Paper" in step (2), so please be sure to check it. In the unlikely event that you have not received an automatic reply email, please contact us using the contact information below.
≫≫Step (2) Submission of Presentation Paper (Deadline: Wednesday, October 31)
Please upload and submit your presentation paper as follows. We do not accept applications by e-mail.
End
Open the "Presentation Paper Submission Form" from the URL provided in the automatic reply email when the "Presenter Entry" is completed in step (1), enter the reference number (half-width number) and necessary information, and upload the presentation paper. We will send you an automatic reply email when the transmission is completed. In the unlikely event that you do not receive an automatic reply email, please contact us using the contact information below.
Note: Both steps (1) and (2) are required to apply.
Step (2) After the deadline, the presenter qualification selection will be conducted. The results will be notified by e-mail from the secretariat in mid-November to the e-mail address entered in the "Presenter Entry" section of step (1).
◇◇Submission of Published Papers◇◇
Presented papers will be subject to review together with presentations (oral presentations and panel presentations) on the day of the conference, so they must be submitted in advance. It is the responsibility of the presenting representative.
In addition, papers that have been confirmed for presentation will be compiled into a collection of papers and distributed on the day of the 14th Policy Research Exchange Conference from Kyoto. Papers that received the Research Encouragement Award at the 14th Annual Meeting will be posted on the Foundation's website at a later date.
To prepare a presentation paper, please check the preparation procedure and use the following Microsoft Word template. Handwritten manuscripts are not permitted.
Publications
Size
Number of pages
Submission Files
undergraduate
A4
2
2 types
(Word file and PDF file)
graduate student
4
Click here for the paper of the 13th Annual Research Encouragement Award
Main schedule (updated from time to time)
Sunday, July 1, 2018~
Call for presenters now
Saturday, October 20, 2018
Presenter Entry Deadline
Wed,31 Oct 2018
 
Deadline for submission of presentation papers (only for registered applicants)
 
Mid-November, 2018
 
 
Notification of Presenter Confirmation Sending (Email) Conference Program
Preliminary briefing session for presenters (planned)
Sunday, December 16, 2018
The 14th Policy Research Exchange Conference from Kyoto
Recruitment of Student Executive Committee Members
We are looking for student executive committee members who want to participate in the planning and management of this competition!
If you would like to participate, please check the application page below before applying.
▽ Application page is here * Application has ended.
Scene of the event (FY2017)

Contact information
Consortium of Universities Kyoto The 14th Policy Research Exchange Conference from Kyoto
E-mail seisaku-admin-ml
■consortium.or.jp (Please change ■ to @ and send)
TEL 075-353-9130 FAX 075-353-9101
600-8216 Campus Plaza Kyoto
, Shimogyo-ku, Kyoto *Business hours: Tuesday ~ Saturday 9:00~17:00 (excluding year-end and New Year holidays)