Overview of the business
The Policy Research Exchange Conference from Kyoto has been held since 2005 with the aim of providing students who are conducting research to identify and solve a wide range of problems and issues faced by cities, as well as providing opportunities for research exchange including faculty members, presenting their own results and deepening their own research.
Outline of the 17th Policy Research Exchange Conference from Kyoto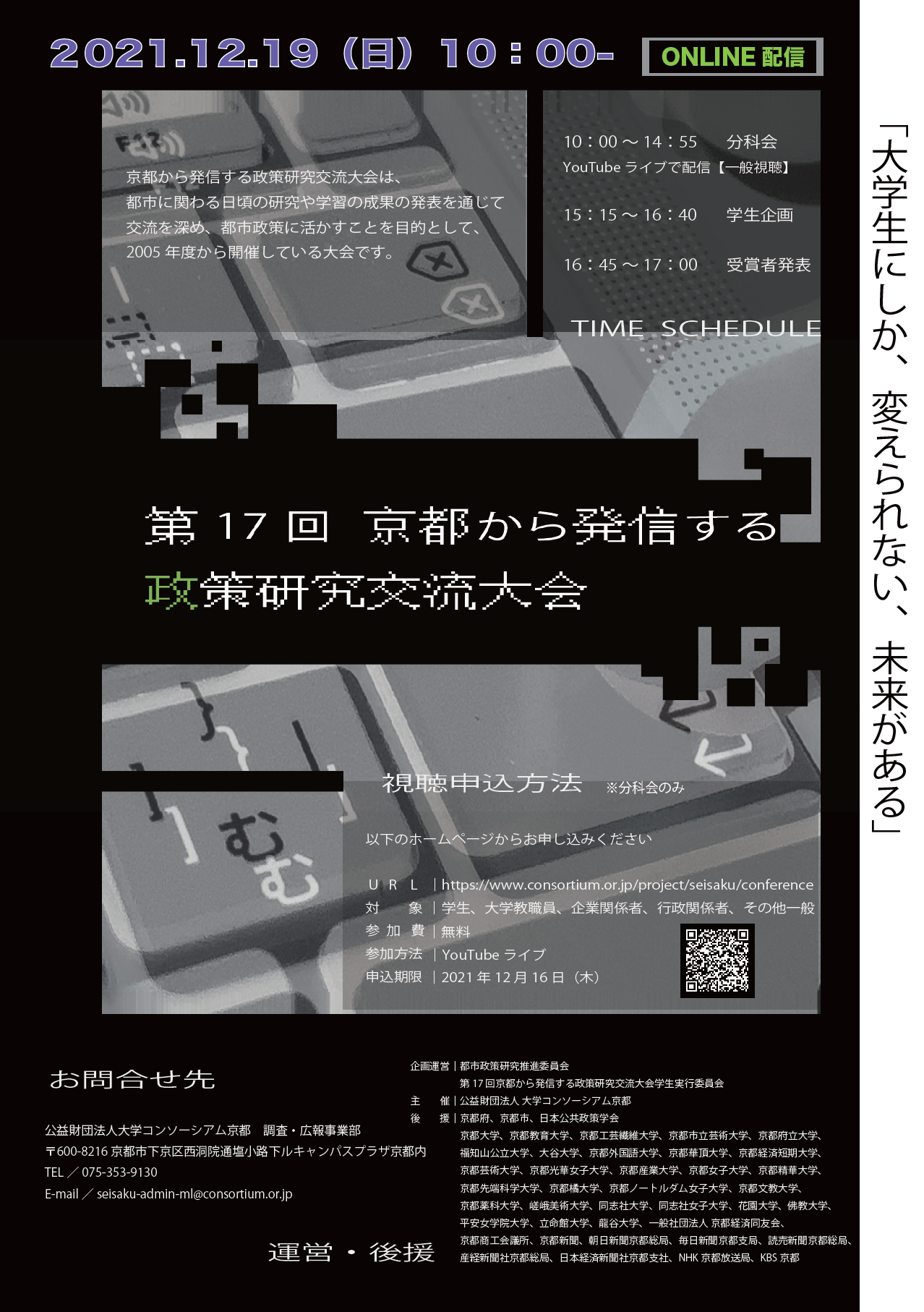 The 17th tournament was held online as in the previous year to prevent new coronavirus infections.
Re
Sunday, December 19, 2021 10:00~17:00
Venue format
Online
Hosted
University Consortium Kyoto
Planning & Operation
Urban Policy Research Promotion Committee The 17th Policy Research Exchange Conference from Kyoto Student Executive Committee
Presentation
Theme
Urban policy in general (the term "city" here is not limited to "urban")
【Proceedings】
This is a paper related to the presentation. Please see also.
〇 Proceedings (full) Proceedings (full)
〇 Collection of papers (divided by subcommittee) Cover and Event

Overview Index Presentation Overview
Subcommittee 1
Subcommittee 2
Subcommittee 3
Subcommittee 4
Subcommittee 5
Subcommittee 6
Subcommittee 7
Subcommittee 8
Subcommittee 9
Application Paper (Publication Only)
Back Cover
Holding the tournament on Sunday, December 19
 This year, the 17th edition was held online, as in the previous year, in light of the situation of the Corona disaster. The number of applicants was 99, an increase from the previous year (75), and while there were many applications from universities that were participating for the first time and liberal arts faculties such as the Faculty of Policy Studies, there were also entries from science faculties. On the day of the competition, the 72 groups that passed the screening were divided into nine subcommittees to present their research on a wide range of themes related to urban policy, and two judges and other presenters answered questions.
The presentation was live-streamed on YouTube and was viewed not only by students, but also by various people such as university officials, government officials, and companies.
After the presentation, the student executive committee conducted a student project. As a place for exchange across universities and faculties, we held a feedback exchange meeting where presenters shared questions and impressions about the content of their presentations, and a talk session to discuss university life during the Corona disaster using SNS. The announcement of the winners after the student project was held via a Zoom webinar, and the joy of the winners touched the heart on the screen, indicating that this competition was a place for the presenters to learn and find it rewarding.
Breakout session
Announcement of the winners
Student project 1
Student project 2
Research Encouragement Award Winners

to view paper data and PPT data.
Award Name
category
Presentation Title
Area
Name of organizations
Name of university
Thesis
PPT
University Consortium Kyoto President's Award
Oral and dissertation
A Study on the Ease of Understanding of Administrative Signboards along the Kamo River: A
Proposal Based on a Comparative Survey of Japan and Foreigners
Organizations
Kyoto Women's University "Connecting Kyoto Project"
Kyoto Women's University
Thesis
PPT
Japan Public Policy Association Award
Article
Kimono
as Daily Use: Clues to the Recovery of the Kimono Industry through Kimono Meeting Customs
Organizations
Doshisha University Faculty of Policy Studies
, Noda Seminar Group A
Doshisha University
Thesis
PPT
Excellence Award
Oral presentation
Toward
Consensus Building among Diverse Actors in Green Infrastructure: The Effectiveness of the Card Game "Greens" as an Icebreaker
Organizations
Team Little Greens
Kyoto Sangyo University
Thesis
PPT
Challenges
of Tourist Maps in Universal Tourism: From the Perspective of the Visually Impaired
Organizations
Kazuyo Murata and Maiko Ikeda Seminar
Ryukoku University
Thesis
PPT
Establishment
of a Recycling-Oriented Industry for the Survival of Local Industries – Based on Empirical Investigations in the Government Office District –
Organizations
Fukao Seminar
Government Office Project
Ryukoku University
Thesis
PPT
An art collective base from Kyoto utilizing an abandoned school
Organizations
Doshisha University Faculty of Policy Studies
, Noda Seminar Group B
Doshisha University
Thesis
PPT
New Town's Housing Complex Power and Community Building
: Policies Looking Ahead to the Japan of 2040
Organizations
Fukao Seminar 11th Class
Ryukoku University
Thesis
PPT
Kyoto Corporate Theory Program Based on a Job Hunting Decision Model
Organizations
Noda Seminar C, Faculty of
Policy Studies, Doshisha University
Doshisha University
Thesis
PPT
The Possibility of an Engineering-Welfare Collaboration Model: Introduction of Technology in the Field of Employment of
Persons with Disabilities
Organizations
Fukao Seminar
Engineering and Welfare Collaboration Project
Ryukoku University
Thesis
PPT
Prevention
of Sexual Damage in the Event of a Disaster: Information Collection and Dissemination through the Use of SNS
Organizations
Faculty of Policy Studies, Doshisha University, Kawaguchi Seminar Group 1
Doshisha University
Article
Promotion of open data in ordinance-designated cities
Organizations
Mayama Seminar, Faculty of Policy Studies, Doshisha University
Doshisha University
Thesis
PPT
The Utility and Potential
of Digital Content in Sovereign Education: Towards Faster, More Enjoyable and Effective Learning
Organizations
Kyoto Prefectural University Faculty of Public Policy 2nd Year Kubota Seminar
Kyoto Prefectural University
Thesis
PPT
Reference: Click here for PowerPoint papers and oral presentations of the 16th Annual Research Encouragement Award
Policy Proposal Roundtable
 On Friday, March 4, 2022, members of the Kyoto Women's University "Connecting Kyoto Project," the recipient of the Kyoto Consortium Kyoto President's Award, and members of Noda Seminar Group A of the Faculty of Policy Studies, Doshisha University, which is the recipient of the Japan Society for Public Policy Award, made presentations to the departments of administrative agencies related to the content of the presentations and held a policy proposal roundtable to exchange opinions.
Officials from the government talked about the government's attempts and issues, gave advice on how to further brush up on the research content, and commented that "I would like students to participate in various situations."
The students commented that they had learned a lot and that they would like to engage in research activities even more, suggesting that it was an opportunity to deepen future initiatives and research content, and to deepen cooperation with the government.








Main schedule (updated as needed)
Late June, 2021~
Briefing session for prospective applicants (video distribution)
Friday, August 6, 2021
Entry Deadline
Saturday, October 30, 2021, 5:00 p.m.
Paper Submission Deadline
Friday, November 26, 2021,
6:00 p.m.
Pre-briefing session for presenters (online)
Sunday, December 19, 2021
The 17th Policy Research Exchange Conference from Kyoto
Friday, March 4, 2022
Policy Proposal Roundtable
Scene from the event (FY2020)

Contact information
Consortium of Universities Kyoto
, Research and Public Relations Division, Shigenaka and Nomura
E-mail seisaku-admin-ml■consortium.or.jp (Please change ■ to @ and send)
TEL 075-353-9130 FAX 075-353-9101
600-8216 Campus Plaza Kyoto
, Shimogyo-ku, Kyoto *Reception hours: Tuesday ~ Saturday 9:00~17:00 (excluding year-end and New Year holidays)