"FD Joint Training Program / Thematic Training" targets new teachers, teachers who want to relearn the basics of FD, teachers who are interested in FD, and staff working in FD-related departments, and provides IR and report guidance. This is a small-group training program aimed at acquiring skills and knowledge such as seminar/laboratory management, first-year education, lesson design, and lesson practice. A total of five sessions will be held in 2023.

The 4th event will be held with the following contents. We look forward to the participation of many university-related people.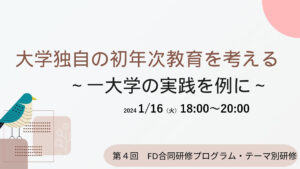 4th Thinking about university-specific first-year education ~ Using one university's practice as an example ~
First-year education is expected to facilitate a smooth transition from high school to university and strengthen students' motivation to learn. In recent years, the number of students who are unable to adapt to university studies has been increasing due to the accelerating changes in society, such as the further advancement of information technology, and the accompanying diversification of the academic abilities and learning skills of new students. Therefore, in first-year education, it is necessary to consider the design of learning after accurately understanding the problems that current students face in learning. In this training, a lecturer who has been involved in building the university's first-year education will give a lecture on the efforts to date, and afterward, participants will exchange information with each other to help build the university's unique first-year education. We would like to use this as an opportunity to consider the necessary perspectives and methods.


●

Date: January 16th (Tuesday) 18:00-20:00
●

Lecturer: Hisashi Sakamoto (Associate Professor, Department of Basic Science, Kyoto Pharmaceutical University)
●

Moderator: Ikuko Takao (Assistant Professor, Kyoto Pharmaceutical University Student Training Support Center) Riho Matsuse (Lecturer, Department of Global Tourism, Faculty of International Contribution, Kyoto University of Foreign Studies)
●

Target audience: university/junior college faculty and staff *Limited to those who can use Zoom.
●

Event format: Online (Zoom meeting)
●

Participation fee: University Consortium Kyoto member universities/junior colleges faculty and staff: Free
For those other than the above: 1,000 yen (tax included, advance payment required)
●

Number of members: Approximately 30 people

Click here for details.
You can view the details of all programs scheduled to be implemented this year and how to apply.




Contact information
In charge of FD project, University Consortium Kyoto Public Interest Incorporated Foundation
TEL 075-353-9163 FAX 075-353-9101
〒600-8216 Campus Plaza Kyoto, Nishinotoin-dori Shiokoji, Shimogyo-ku, Kyoto City
*Business hours: Tuesday to Saturday 9:00 to 17:00