Outline of the event
Main
What is "learning" in high school-university connections that will open up a new era
: Transmission from Kyoto
The 11th High School-University Collaborative Education Forum
On

Friday, December 6, 2013 9:30~17:30

Venue

Campus Plaza Kyoto

Organizer

Kyoto High School Collaborative Research Council (Kyoto Prefectural Board of Education/Kyoto City Board of Education/Kyoto Prefectural Federation of Private Junior and Senior High Schools/Kyoto Chamber of Commerce and Industry/University Consortium Kyoto)

Content

The 11th High School-University Collaborative Education Forum Leaflet [Click here for details]
<Part 1> 9:30~15:15

Time
Contents
Keynote Speech
9:35~10:00
Hiroshi Uchimura (Director, High School-University Collaboration Office, University Consortium Kyoto / Professor, Admission Center, Kyoto Institute of Technology)
Case Study 10:00~12:15
Kyoto Municipal Luoyo Technical High School Theme: Dreaming Collaborative Education ─ You Can't See the "Mountain" Without Touching the Tip –
Presenter: Toru Onda (Principal, Kyoto Municipal Luoyo Technical High School
) Presenter: Mr. Junichi Arimoto (Director, Planning and Public Relations Office, Kyoto Municipal Luoyo Technical High School)
Shonhoku Junior College Theme: Pre-entrance classes
practiced as career education Presenter: Ms. Riko Ozao (Professor, Department of Information and Media Studies, Shonhoku Junior College
/ Deputy Director, Center for Liberal Arts)
Kyoto Municipal Tonan High School Theme: Practice
of High School-University Collaboration in the Future Course of Education at Kyoto Municipal Tonan High School Presenter: Mr. Takeshi Furuike (Principal, Kyoto Municipal Tonan High School
) Presenter: Mr. Takeshi Wakabayashi (Director, Planning Promotion Department, Kyoto Municipal Tonan High School)
University Consortium Kyoto Theme: Initiatives
in the Northern Kyoto Prefecture Regional Career Education Project "Maruttoku in Ayabe" Presenter: Mr. Yoichi Tsutsui (University Consortium Kyoto High School-University Collaboration Promotion Office / Professor, Faculty of Humanities, Kyoto Seika University) Moderator: Yoshinori Hamahata (Professor, High School-University Collaboration Office, University Consortium Kyoto
/ Ritsumeikan University Educational Development Promotion Organization)
13:15~15:15
Special Lecture
Theme: Exploring
new forms of high school-university collaboration from the creation of individual knowledge through dialogue Speaker: Nahomi Miyake (Deputy Director, Institute for the Promotion of the Consortium for University Education and Support, The University of Tokyo / Professor, Center for Research and Development of Higher Education)
Moderator: Ms. Yowako Yamamoto (Associate Professor, Admissions Center, Kyoto Institute of Technology, University Consortium Kyoto)
Today, the times demand the ability to live and work in reality. In order to realize this, it will be necessary for each person to think for themselves and learn how to learn how to nurture their own ideas in the learning process that leads from high school to university. As one of the attempts, we, the Consortium for the Promotion of University-initiated Education, are currently working to create new lessons in high schools by utilizing the learning mechanism hidden in "dialogue". Together with the participants, we would like to consider a new form of high school-university collaboration that can be seen from class reforms that nurture the creativity of each individual's knowledge.

<Part 2> 15:30~17:30

Type
Contents
Session
1: Expressive Techniques
Theme: Using mutual learning methods to deepen
symposium discussions Facilitator: Yoichi Tsutsui (Kyoto High School Collaboration Office, University Consortium / Professor, Faculty of Humanities, Kyoto Seika University)
Session 2
: Mathematics
Theme: Considering
Educational Problems in the New Curriculum Presenter: Hiroshi Nakamura (Teacher, Kyoto Municipal Tonan High School) Presenter: Hiroshi Hiromoto (Lecturer, High School-University Collaboration Office, University Consortium Kyoto / Ritsumeikan University, Faculty of Science and Engineering) C N: Hiroaki Sunada (Chief Supervisor, School Guidance Division, Guidance Department, Kyoto City Board of Education)
Session 3
English
Theme: High school-university collaboration
to develop human resources with leadership skills based on a new view of academic ability Presenter: Yoshinori Imagawa (Ritsumeikan Uji Junior and Senior High School, Head of Foreign Languages, Full-time Teacher) Presenter: Ms. Miko Yukawa (Professor, Faculty of Letters, Ritsumeikan University) C N: Atsushi Kubo (Director, International Center, Ritsumeikan Uji Junior and Senior High School,
full-time teacher)
Session
4: Science
Theme: Efforts to enhance science education through high school-university collaboration (Kyoto Physics Grand Prix) Presenter: Kensuke Ohmagari (Teacher, Kyoto Prefectural Kameoka High School) Presenter: Toshinao Tsunemi (Lecturer, Social Exchange Office, Graduate School of Science, Kyoto University) C N: Mr. Hidefumi Toyama (Supervisor, High School Education Division, Guidance Department, Kyoto Prefectural Agency of Education)
Implementation Report
In the "Keynote Speech" of the first part, Professor Hiroshi Uchimura (Professor of Kyoto Institute of Technology), Director of the High School-University Collaboration Promotion Office of the University Consortium Kyoto, explained not only the efforts of the Kyoto High School Collaborative Research Council and the background and purpose of setting the main theme this time, but also explained from an academic perspective the perspective of cognitive psychology, classification of academic ability, university entrance examinations, learning, etc.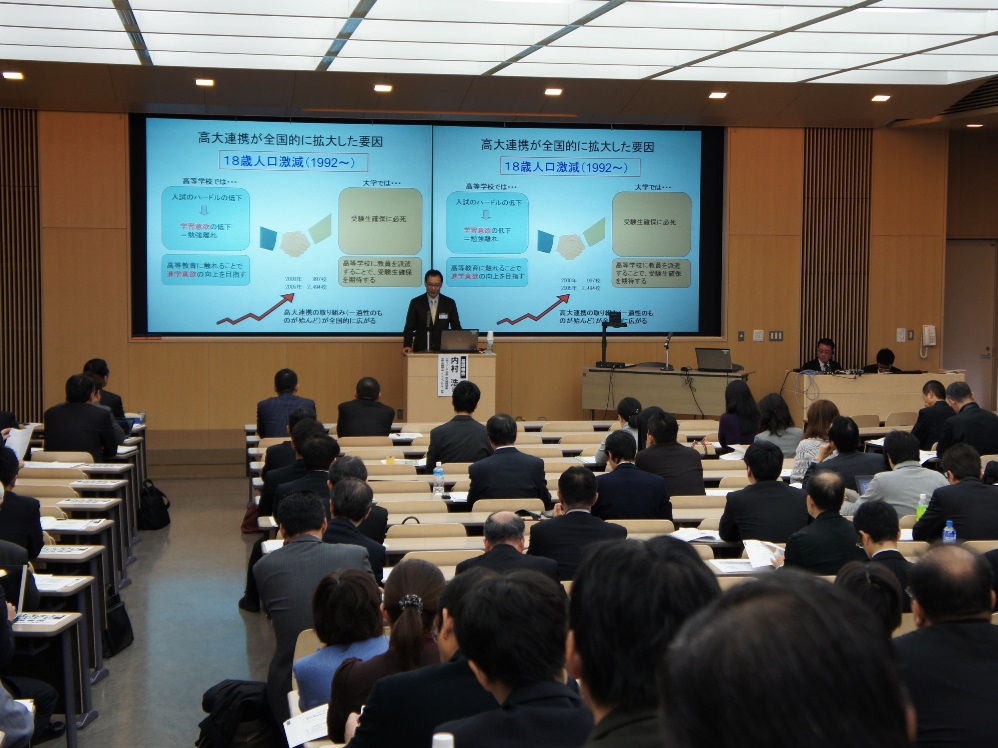 Next, high schools and universities that are collaborating with high schools and universities to make advanced initiatives reported on their "practical case studies." Kyoto Municipal Luoyo Technical High School introduced examples of project-based learning in the Special Advance Course (Hyper Stage), Shonhoku Junior College introduced the contents and effects of pre-entrance classes conducted as part of career education for prospective students, Kyoto Municipal Tonan High School introduced high school-university collaboration initiatives and future issues in the specialized course "Education Mirai Course" aimed at teacher training. The University Consortium Kyoto introduced "Maruttoku," a new career education initiative that high school students, university students, and the community are working on together.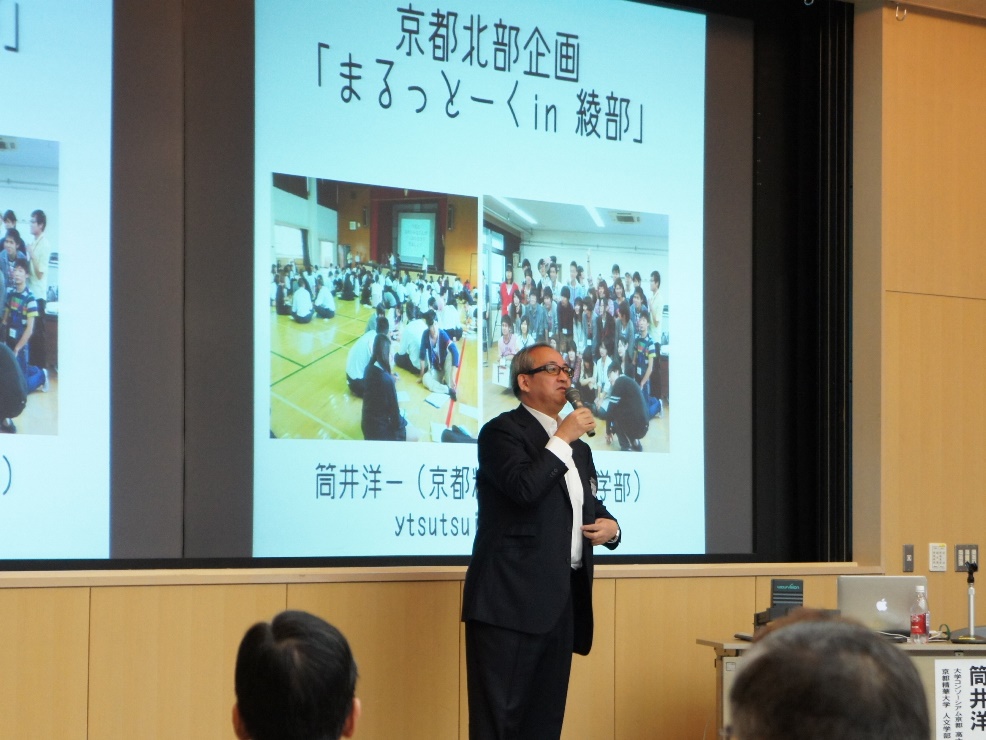 In the afternoon, Professor Nahomi Miyake of the University of Tokyo gave a special lecture titled "Exploring a New Form of High School-University Collaboration from the Creation of Knowledge by Each Individual through Dialogue." First, after reviewing the practical case studies in the morning, the "Jigsaw Method with Knowledge Structure" was introduced as a new class practice method for students to deepen their learning through "dialogue," and explanations were given with group work among participants. Through group work, the participants themselves were able to realize that rather than having each student learn individually, they bring what they have learned and share it with the group, which leads to deeper and broader learning and understanding. This time, it was an attempt to take up the case of science, but there were reports that various practical examples of classes were spreading regardless of science subjects or humanities and social sciences, and I got the impression that it could be applied not only in high school but also in various situations such as low-year seminars at universities.


The second part was divided into subcommittees on "Expressive Techniques," "Mathematics," "English," and "Science," where practical examples were shared and opinions were exchanged by subject and theme. In the "Expressive Techniques" section, we were able to further deepen the discussion in Part 1 through group work and other activities. In the "Mathematics" section, there were reports on practical examples of classes using ICT in high schools and practical examples incorporating mathematical activities at universities. In the "English" section, the initiatives for subject guidance exchange between Ritsumeikan University and Ritsumeikan Uji Junior and Senior High School were introduced. In the "Science" section, reports and opinions were exchanged on cooperation between high schools and universities through the "Kyoto Grand Prix in Physics" sponsored by the Kyoto Prefectural Board of Education.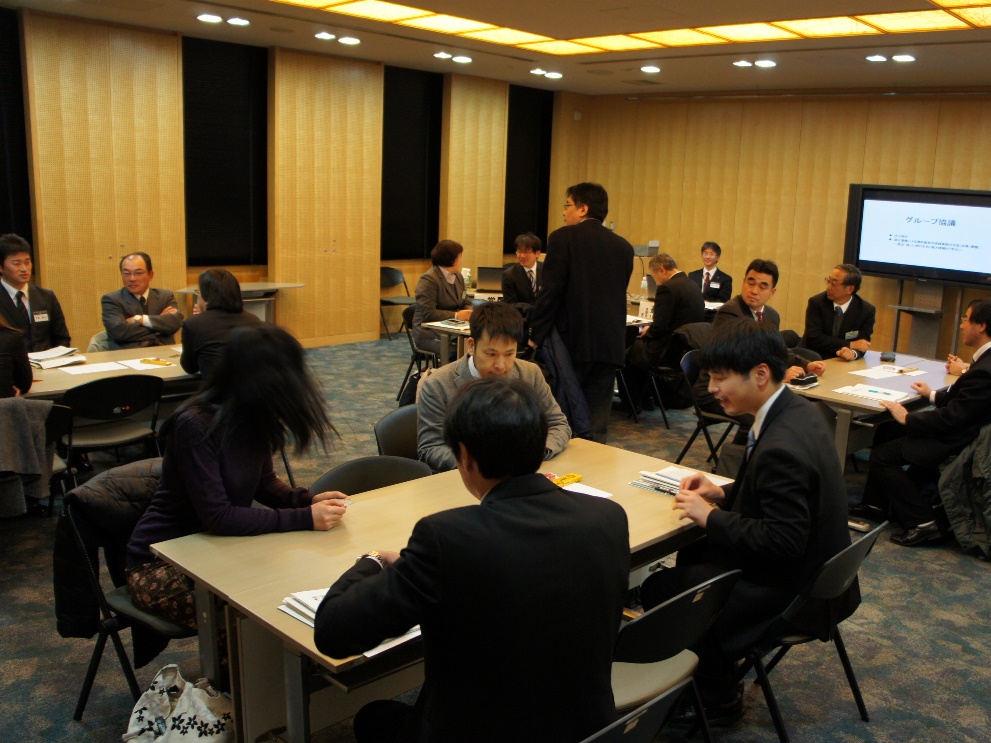 This forum ended with great success. We look forward to your participation in the High School-University Collaborative Education Forum next year.
Contact information
University Consortium Kyoto, High School-University Collaborative Education Forum
TEL 075-353-9153 FAX 075-353-9101
〒600-8216 Campus Plaza Kyoto
, Shimogyo-ku, Kyoto *Business hours: Tuesday ~ Saturday 9:00~17:00 (excluding year-end and New Year holidays)